… urges media to withdraw patronage on sensational stories
By Emmanuel Elebeke
The Acting Director of Defense Information, Colonel Rabi Abubakar says some media reports on the activities of the Boko Haram sect promote their operation in the North Eastern Nigeria.
Abubakar made this assertion when he paid a courtesy visit to the Permanent Secretary of Ministry of information.
The army spokesperson, who expressed worry over what he called undue patronage being giving to the sect by the media maintained that such publicity emboldens the terrorists and make them extremely proactive in their deadly operations.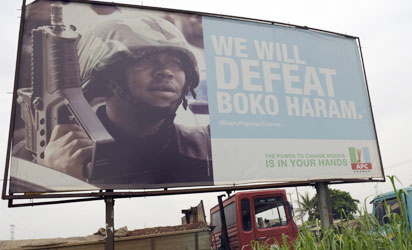 ''We ask Nigerian press and other press men to understand our situation and support us to crush these people, which we know will be over soon.
''We have realized that overtime, these terrorists have been extremely proactive with the use of information dissemination. As such, we need to counter all they are doing. That is why we are calling on the media to stop giving them the kind of publicity they are giving them because that is what keeps them going. I think, by the time they are denied such publicity they are enjoying in the media, they will lose strength.
''Information in any military activity is important. We are trying to chat a new course for information flow in our various operations being carrying out by the Nigerian armed forces.
''It is part of the new paradigm we are talking about. You have to deny them information. Information is very vital to insurgency and it is only by denying them that information that we will be able to cripple them, and complement the efforts of the military in crippling them.''
With the new leadership in place, he said the military are having a new paradigm shift on how information could be collated, disseminated, taking cognizance of national security interest, the interest of their personnel who are in the war front.
While calling on the media practitioners to be patriotic in reporting terrorism, he also urged the media to crosscheck their facts with the military before going to the press, promising to be open and truthful to them at all time.
''Press men should always crosscheck with Nigerian military, we will not tell you lies. We will tell you the truth and hope that the pressmen will be patriotic enough to be patient when reporting defense issues and all related issues.
''We are urging them to maintain that level of cooperation they have been giving to us and be patient with us. I am assuring them, if there is any information to give the Nigerian citizens, we will do it and we will give them out exactly the way it happens.
''We are not hiding anything, we are all Nigerians. With what we have now, it is a matter of time, the issue of boko Haram will be history,'' he added.
On coverage of the armed forces radio, Colonel Abubakar pointed out that defense headquarters is exploring others avenues to upgrade it to cover not only Nigeria but outside the country.
Responding, the Permanent Secretary, Dr. Folasade Yemi-Esan, said the visit marked the beginning of a very good working relationship between the Defense headquarters and the Ministry.
''We have been seeking for this kind of collaboration for a number of years and we are glad it has finally come and we in the ministry are ready to make sure this collaboration work.
Subscribe for latest Videos