By Levinus Nwabughiogu, Charles Kumolu, Gbenga Oke & Boluwaji Obahopo
ABUJA—The Presidency, yesterday, said President Muhammadu Buhari will limit his probe to the immediate past government of Dr Goodluck Jonathan. President Buhari had vowed, Wednesday, to arrest and prosecute former ministers and government officials who looted funds and stole Nigeria's crude oil.
Buhari, who said the suspected officials stashed the funds in foreign bank accounts, spoke during his three-day visit to the United States.
The Presidency which said yesterday that there were trails of monumental fraud everywhere that would be too difficult to ignore, however, explained that it will be a distraction to exceed Jonathan's regime.
Before leaving office, former president Jonathan had said any probe by the new government would be seen as a "witch-hunt" if it fails to go beyond his administration. The Presidency, however, argued that it was not a witch-hunt.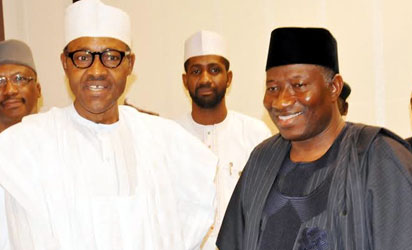 Speaking in an exclusive telephone chat, yesterday, Special Adviser to the President on Media & Publicity, Mr. Femi Adesina, said the probe was the proper thing to do.
His words: "It is a simple thing. Before he was inaugurated, the President said that it will be a distraction for him to start digging deep into past governments. He said so. I don't see anything new. But it will be irresponsible of any government to leave things of the immediate past that are glaring and evident and not do anything about it.
"It is not a witch-hunt. You have evidence and they are glaring. A responsible government should do something about it. It is not about the former president. It is about how they acquitted themselves in the responsibility they were given. When you are given a public responsibility, you are responsible to the people.
"You must account. When you bury a corpse and the legs are sticking out, have you buried the corpse? No. Once there are trails of money, in dollars everywhere, a responsible government should investigate. It is not as if they are witch-hunting anybody", he said.
We are not against it— PDP
Meanwhile, the Peoples Democratic Party, PDP, has said it was not against President Muhammadu Buhari's decision to single out the past administration of President Goodluck Jonathan for probe.
National Publicity Secretary of the party, Olisa Metuh, who stated this yesterday in Lokoja during the conduct of the state's delegates congress of the party, said the probe is in line with the party (PDP)'s stand against corruption.
Metuh said: "Corruption is not only a crime against President Muhammed Buhari, nor is it a crime against the All Progressive Congress. Corruption is against the interest of mankind and it's against the constitution of the Federal Republic of Nigeria.
"If President Buhari singled out the past administration and PDP members for probe, so be it. We are not against it. If one is not guilty he has nothing to be afraid of if he or she is singled out; at the end, it will amount to vindication for such persons. Only the guilty will be afraid.
"We (PDP) are not against the selective probe of our members because we, as a party, are against corruption, and this will show that we abhor it. We only urge that the probing is done with 'clean' mind and not out to villify the past administration".
Metuh had during the week accused the Federal Government of treating the PDP as 'prisoners of war' in view of the way the party members were being treated.
Buhari will lose credibility if he fails — Gbagi
Also, ex-Minister of State for Education, Olorogun Kenneth Gbagi, said: "Buhari will lose credibility if he does not bring to book any former minister and any one found to have embezzled the wealth of this nation. It is very important because he has the credibility and the world is watching him. He has to do that because the amount of money that these people stole is so much and can be used to perpetuate criminal activities. Buhari's searchlight should not be limited to ministers who were involved in oil deals only.
"Anyone found to have robbed this country of its resources should be brought to book according to the law. I must also state that Buhari has no powers under the law to shield anyone from prosecution. He must ensure that there are no sacred cows in the fight against corruption because if he excludes anyone, some of us who have been in the campaign for accountable governance will be forced to seek asylum outside the country, because we will not be safe in a country where corrupt people are institutionally shielded from prosecution. He has the support of Nigerians to embark on the probe because so much was stolen in this country. I also want the President to make sure that our international friends are committed to this task. That should be done by making them repatriate our stolen wealth in their respective countries. We need their support to achieve the desired result."
We should commend Buhari for his courage – Mohammed
In his response, Second Republic lawmaker, Dr Junaid Mohammed said Nigerians must admit that President Buhari's decision to probe oil theft is a good example of leadership courage.
He said:
"We must commend him for that decision because what he is talking about, other former presidents like Obasanjo, Yar'Adua and Jonathan knew about it but did nothing to stop it. What Buhari has said is not only common to the political class or ministers, it is also known to common people in the Niger Delta and other areas where oil is found and oil is stolen.
"Oil theft has been happening for so long and to even control it is a big task because some people in the Niger Delta can tell you who and who among the elite are stealing this crude; military and politicians who are into this oil bunkering and are directly involved. Buhari has only assented to it as a matter of courage and I am glad he said he will investigate, probe and prosecute the people behind oil theft."
Mohammed added: "I must also say that people complaining that too many probes are taking place should be very careful. Nigerians need to know, you cannot eat your cake and have it. Nigerians need to give time so that things can be properly investigated because oil theft has taken place for so long. So it is now left for Nigerians whether they want the truthfulness and straightforwardness of Buhari or not because there are no two ways about it. If you have to know how our money was packed in billions out of this country, then some of these probes must take place."
I'm not interested in probes — Babatope
In his reaction, a former Minister of Transport, Chief Ebenezer Babatope said: "I don't have interest in the probes. I am an Awolowo son and we have different approach to such issues."