By Henry Umoru & Joseph Erunke
The rift in the fold of the senate after the election of Senators Bukola Saraki and Ike Ekweremadu deepened on Wednesday as some senators loyal to Senator Ahmed Lawan, APC, Yobe North,  fight for the control of the red chambers.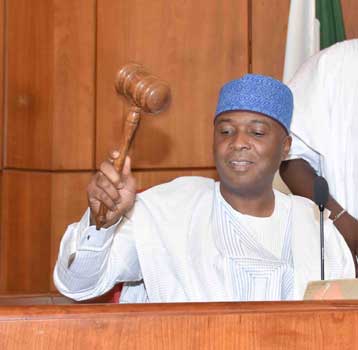 Indications emerged that part of the fight the Ahmed's group and other Senators on the platform of the All progressives Congress, APC, would have with that of Saraki as the Senate resumes plenary next week Tuesday, July 21 would be to first reject the new rule which shares the  57 standing committees equally among the six geo-political zones of the country irrespective of political party affiliation.
The Senators are set to ensure that they drive home the probe of alleged forgery of the 2015 Standing Orders as amended, just as the 2015 Senate rule book stipulated each zone would be expected to get at least, nine committee chairmanship seats out of the total 57 Senate committees.
According to the new  tradition of having the Standing Committees shared equally among the Peoples Democratic Party, PDP and the APC is in compliance with Order 3 (4) of the Senate Standing Orders 2015 as amended. The new Standing Order states that "The appointment of Senators as chairmen and members of committees shall be carried out in such a manner as to reflect the six geo-political zones of the country and there shall be no predominance of Senators from a few geo-political zones".
However, this portion of the Standing Order runs contrary and in conflict with the 2011 version, which favoured the then ruling PDP, just as  it was not contained in the 2011 version of the Senate Rule which was used by the Senator David Mark-led 7th Senate where the PDP chaired the highest number of Committees.
Meanwhile, Senator  Kabiru Marafa, Zamfara Central senatorial district, took a swipe at Senate President, Dr. Bukola Saraki on the confirmation of the new service chiefs appointed by President Muhammadu Buhari on Monday.
According to Senator Marafa, Senate President's earlier statement on the matter was faulty,  he said that the president's action was constitutional with no time frame for the confirmation of the appointments of the service chiefs.
The Senate President yesterday said that the Senate will perform its constitutional duty when it receives communication from the president on the appointment of the new service chiefs.