By Sola Ogundipe & Chioma Obinna
LAGOS — Almost a year after Nigeria recorded its first ever case the Ebola Virus Disease, EVD, a cross section of local and international experts have said the country is not prepared to respond in the event of another outbreak.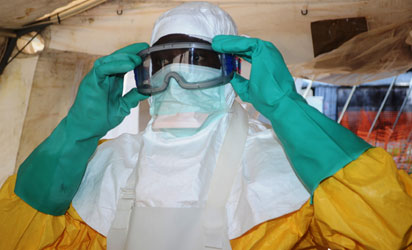 This development is not unconnected with the call by the World Health Organisation, WHO, on Nigeria and other countries in sub-Sahara Africa to build robust health systems that are resistant to Ebola and other disease epidemics.
The resurgence of the Ebola virus in Liberia and its persistence in Sierra Leone, has also raised concerns even as countries in the sub-region continue battling with poor public health infrastructure.
Former Lagos State Commissioner for Health, Dr Jide Idris, said with a weak public health infrastructure, Nigeria is not ready for another resurgence of Ebola.
Idris who  said Nigeria still has serious challenges in the health sector at the national and state levels, lamented that Ebola is still around and requires the nation to be on its toes to build a proper public health infrastructure.
His words: "Nigeria is not ready to prevent Ebola. We have done something but we are not ready. As a nation, as a country, we must do what we can to prevent epidemics or disease that is the essence of National Health Security."
Also speaking, Director General of Nigerian Institute of Medical Research, NIMR, Prof Innocent Ujah, said Nigeria failed to utilise the opportunity of the outbreak to build the capacity of the institute.
Ujah, who said the 2014 Ebola outbreak in the country provided the perfect opportunity for the institute to be upgraded, noted that despite a position paper written to the Federal Government, nothing was done about it.
He said one year after Ebola came to Nigeria, the lab at NIMR, which is the country's only medical health research institute,  is still unable to carry out complex laboratory tests on live viruses.
On its  part, the World Health Organisation Regional Director for Africa, Dr. Matshidiso Moeti said feedback from partners in the response against the West African Ebola epidemic, showed that the Nigerian government and others within the sub-region should invest more in building resilient health systems.