By Anino Aganbi
With a lot of people believing in reading today, the age old tale of hiding things in a book from a black man  and him not finding it, no longer holds true as a lot of black people have now inculcated the habit of reading.   Mrs. Victoria praise Abraham is one of those who seems to have come a long way through her writings.   Believing in her abilities to impact the lives of many through her books, she has made it possible for even the younger generations.
She has successfully written three books that are being read by people within an outside Nigeria.   In a book reading on her new book called ' Hope on the go', she successfully put to paper a lot of words to motivate and encourage others.   Although she does not write fiction,  she has streamlined her writings to fit in with everyday living and does not like being put in a box where her creativity is concerned.
Speaking at the event, Mrs. Victoria Praise Abraham stated that "The event of the day was a very dear one to my heart as it gives me an opportunity to discuss the writing of my third book titled "Hope on the go" to everyone present and it also creates an avenue to meet, listen and better understand the book being read.
Till date I have written three books but this book would be the first one I am using this platform for. I believe everyone is a book reader and lover and this is why this gathering is a special one.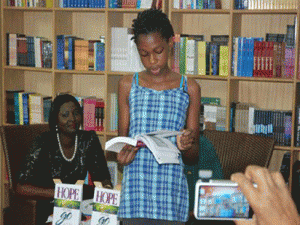 She further stated that "Readers are natural leaders and I believe that this experience will leave us with wonderful memories.  Reading from the book, Anisha, a teenager who showed her vast interest in being an avid reader read a few interesting quotes from the book that greatly motivated the crowd.
Still speaking at the event, Mrs. Abraham also stated that based on the production of the second book titled the tiny big first step which was on procrastination she saw it as a big problem which a lot of people face at different points in their lives. "Although I knew I was going to be great, I didn't achieve that because of the thief called procrastination.
"The beautiful thing about Hope on the go was that it was written over an eight years period. It started out as just writing bursts of wisdom down on a piece of paper. I never knew it would become a book but made sure I wrote them and kept them to myself. I thank God that today, it is a book that is not just being read but is also enjoyed".