By Providence Obuh
About N480 billion is lost annually to malaria treatment and absenteeism which is about 46 per cent of all curative health costs, said National Coordinator, National Malaria Elimination Programme Federal Ministry of Health, Dr. Nnenna Ezeigwe.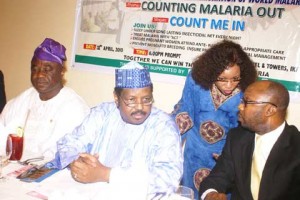 To address this challenge, she said that there is a need for massive awareness creation for behavioural change and improved health seeking behaviour to increase demand for services and utilisation of various intervention especially Insecticide-Treated Nets (ITNs), Artemisinin-based Combination Therapy (ACT) and Rapid Diagnostic Tests (RDTs) and also the need to fill the existing gap of $500 million for 2015 to Procure and distribute anti malarial medicines and commodities and Scale up Indoor residual spraying (IRS)
Ezeigwe attributed the figure to malaria burden and effect on the economy, adding that the country accounts for a quarter of malaria burden in Africa Another economic burden and effect of malaria to the economy is the re direction of finances from health maintenance (e.g. good nutrition, proper hygiene) to treatment "Malaria is endemic in Nigeria with all year round transmission; about 97 percent of total population at risk," she said.
On the other hand, Mr. Wellington Oyibo, from the International Center for Malaria Microscopy and Malaria RDT Quality Assurance Center, College of Medicine, University of Lagos, said that malaria is preventable, curable but kills and a child die every 60 seconds. Oyibo described malaria as a disease caused by the obligate intracellular protozoa of the genus Plasmodium, explaining that clinical malaria emphasises the concomitant signs and symptoms in addition to malaria parasite while, plasmodium infection is the presence of the parasite in the blood without symptoms.
His words, "Increased intervention with funding, hope for success but could be slow if momentum not sustained. "Use of interventions such as: Long Lasting Insecticide Nets (LLINs), medicine for intermittent prevention of malaria and other preventive measures including vaccines. Prompt testing for malaria using rapid test is now available and reliable. ACTs are effective when malaria is confirmed.
"Advocacy, communication, social mobilisation is critical in promoting the malaria strategies of government. State governments to take up full responsibility for malaria control and Public-private partnership to fight malaria critical."
Subscribe for latest Videos