By Innocent Anaba
Lagos—Former Minister of Aviation, Chief Femi Fani-Kayode has expressed joy at his acquittal in respect of the money laundering case against him.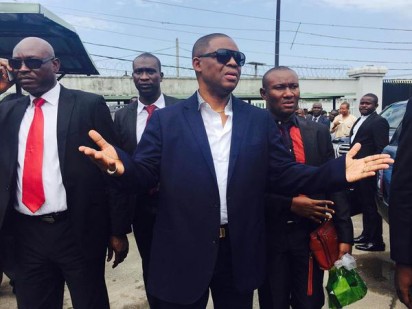 He said henceforth, instead of David Oluwafemi Fani-Kayode, "It shall be David Oluwafemi Olukayode. Olukayode means "the Lord has brought me joy" and today he has done precisely that".
Fani-Kayode, was, yesterday, discharged and acquitted by a Federal High Court sitting in Lagos on the two- count charge of money laundering preferred against him by the Economic and Financial Crimes Commission, EFCC.
After reviewing the testimonies of the witnesses, trial judge, Justice Rita Ofili-Ajumogobia, said from the totality of the evidence, it was clear that N2.1 million was deposited in Fani-Kayode's account, but the giver was unclear.
The judge said the testimony to that effect was totally unreliable, as it was not clear whether the monies were received without breaching the money laundering law.
"No offence is committed when the amount received is less than N500, 000. From the evidence before this court, the giver of the said monies is hazy and unproven," the court said.
The court dismissed alleged confessional statement of Fani-Kayode in relation to the N19.5 billion Aviation Intervention Fund, noting that there was nothing to support such.
The judgment came seven years after his (Fani-Kayode) first arrest at the National Assembly complex in Abuja.
Fani-Kayode's ordeal began when he was arrested on July 1, 2008 by operatives of the EFCC at the premises of the Nigerian Senate after he appeared at the public hearing on the N19.5 billion Aviation Intervention Fund.
Responding to the judgment, Fani-Kayode, said I wish to thank the Nigerian judiciary for dispensing justice in an honest and God-fearing way and for refusing to be intimidated by anyone or guided by anything other than the evidence presented before them in this case.
"I give thanks to God for today's verdict. It is the doing of the lord and it is marvelous in our sight."
Once again, he has proved that he is faithful and true and that he always honors his word.
"I wish to thank my family members, leaders of the Body of Christ, intercessors, pastors, political associates and friends who never doubted my innocence and who stood by me through thick and thin. I wish to thank my lawyers who worked so hard and so diligently over the last seven years throughout this case," he added.
The Lord has, once again, honored his word, to him alone be the glory.
As a mark of honor and respect for the Lord and as an everlasting testimony of my love for and dedication to him, I wish to make it known to the Nigerian public that as from today my name will be changed.
It will no longer be David Oluwafemi Fani-Kayode but instead, it shall be David Oluwafemi Olukayode. Olukayode means "the Lord has brought me joy" and today he has done precisely that.
As from this day, in honor of him and as a small tribute to my love for and total dependence on Him, that shall remain my family name.