LAGOS — Former Abia State governor and Publisher of The Sun and New Telegraph newspapers, Dr Orji Kalu, has called on the President  Muhammadu Buhari administration to come to the aid of print media owners to avoid job losses due to increasing cost of production in the industry.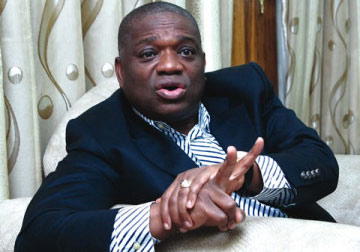 Kalu, who made this call, yesterday, said the way things were in the print media, the industry was getting closer to the precipice as the industry runs at a loss because of the rising operational cost that is threatening the existence of most media organizations.
He, therefore, pleaded with the President to urgently intervene  to prevent job cuts to which media owners might resort to stay afloat.
He said: "The operational cost media houses have to contend with is huge and keeps rising daily. We are dying from the burden. Our businesses are suffering. From the cost of newsprint to ink, blankets and plates, our consumables in the print media are expensive.
"The Sun Publishing uses 2,800 tons of newsprint every month, for instance. Add that to the cost of freighting, the dwindling fortunes of the Naira and power challenges and it becomes obvious that our business terrain is facing more difficulties by the day.
"The Federal Government needs to come to our aid. If this bad tide is not stemmed, media owners may resort to downsizing to save cost and that will further worsen the nation's already bad unemployment figures."
Media houses producing at a loss
The Chairman of Slok Group, a multinational concern, went on to reveal that all media houses are producing every copy of the newspapers Nigerians read at a loss.
According to him, "the average cost of printing a copy of a newspaper is N500 and we sell for N150 or N200. That means media owners are subsidizing every copy our readers get with N300. How long can we go on like that and stay in business? The government has to intervene to ensure journalists keep their jobs and we stay afloat."
Urges NPAN members to support appeal
According to the former governor, the media industry deserves special intervention fund from government at a reduced interest rate among other palliatives to carry on with the business of publishing.
Kalu called on other members of the Newspaper Proprietors' Association of Nigeria, NPAN, to speak and lend their voice to this appeal to the government.
He said: "All members of NPAN must join this appeal. We all need to work together on this. It is our battle, it is about our survival and if we don't work together, all our businesses are at risk. For as long as our operational costs keep going through the roof, for that long will the fortunes of newspaper houses keep diminishing."