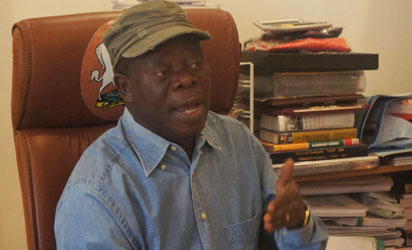 Former governor of Edo State, Comrade Adams Oshiomhole
BENIN—Members of the All Progressives Congress, APC, in Edo Central senatorial district, have reviewed the performance of the party in the last general elections with a view to repositioning the party and enhance its performance in future elections.
Party faithful, who met at the country home of Chief H.  Okoror, after careful and extensive deliberation, thanked Governor Adams Oshiohome for providing genuine and pragmatic leadership for the party and the state "which is manifest with the massive infrastructural development in roads and schools."
Members poured encomium on the state chairman of the party, Mr Anselm Ojiezua for his exemplary leadership that has raised the fortune of the party in the state and Edo Central senatorial district. They thereafter passed a vote of confidence in the state party chairman and advised him to continue to support the governor in the overall interest of the people and state.
Speaking further, vice chairman of the party, Chief  Okoror called on all members to unite and work for the collective good of the party.