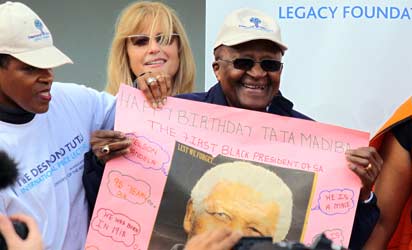 Desmond & Leah Tutu Legacy Foundation said on Wednesday in Johannesburg that Desmond Tutu, South African Nobel Peace Prize laureate, has been hospitalised for a persistent infection.
It said the 83-year-old archbishop emeritus has formerly suffered from prostate cancer.
The Foundation representing him said his family had expressed the hope that he would be able to return home in a day or two.
Tutu was rewarded the Nobel Peace Prize in 1984 for his resistance to South Africa's then apartheid regime.
He headed the Truth and Reconciliation Commission created to heal the wounds of apartheid after the end of racial discrimination in 1994.