By Emma Ujah, Abuja Bureau Chief
National Security Adviser, NSA, Col. Sambo Dasuki (rtd) has said that President Muhammadu Buhari never ordered the dismantling of all military checkpoints in the country.
President Buhari has come under criticism in some quarters for directing the removal of military checkpoints which some claimed has given terrorists a leeway to step up their attacks in recent times.
But Col Dasuki (rtd) who met top military and security chiefs in his office, in Abuja, Thursday, clarified that the directive of the president was never a blanket order to remove all military checkpoints.
The NSA said military roadblocks in flashpoints would continue to be maintained while those in relatively peaceful areas would be dismantled but soldiers would continue to be positioned in those areas while not blocking roads.
He said it was both conventional and a global practice for governments to increase security measures whenever insecurity was heightened and appealed to citizens to endure attendant inconveniences which he said were temporary.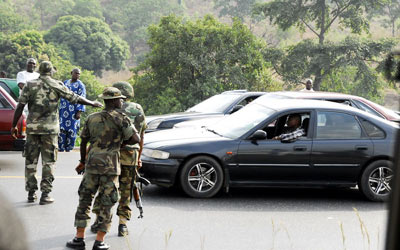 Col Dasuki (rtd) described essential security checkpoints in vulnerable areas are "necessary inconveniences" to ensure criminals and terrorists did not have easy passage. He cited some arrests made recently including that of a mastermind of bomb attacks in some towns who were nabbed by Nigerian troops at such checkpoints, as justifying the position of the federal government on the issue.
According to him, "whenever necessary, the soldiers will mount their points to conduct security screening in emergency situations and for quick response".
He condemned indiscriminate proliferation of security checkpoints by unauthorised bodies, especially those used for extortion and that such practices would not be condoned.
His words, "We will continue to ensure that the necessary or essential security checkpoints are not avenues for extortion, indiscipline and other forms of corrupt practices that can exacerbate traffic flow and cause road accidents."
The NSA assured that the government is deploying new sophisticated scanners and detectors in some areas to ease traffics and to identify movements of strange objects, concealed weapons and criminal suspects.
"With effective use of technology which minimises physical contacts between security personnel and citizens, the time spent at designated security checkpoints will ultimately be reduced," he said.