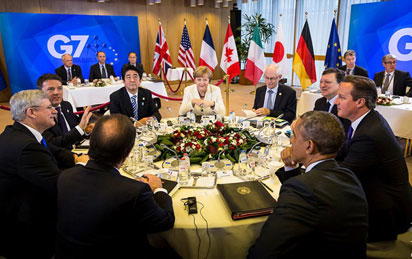 G7
ABUJA — Members of The G7 group of industrialized nations gave reasons, yesterday, why they have resolved to support President Muhammadu Buhari.
The G7 nations comprising the United States, Canada, France, Germany, Italy, Japan and the United Kingdom said they are backing Buhari because they, among other reasons, acknowledged "the way and manner of his emergence and the tremendous challenges faced by the government he leads, not of his making, especially in its efforts to combat the Boko Haram."
A statement by Garba Shehu, Senior Special Assistant (Media and Publicity) to the President, said at the end of President Buhari's presentation on Monday, "the G7 leaders said to him that they recognized the President's massive amount of confidence and expectations behind his government.
"They acknowledged him as having emerged from an election adjudged to be the freest in the country's electoral history, but regretted the severe handicaps his new government has to face from the outset."
According to the statement, "they told President Buhari that they took cognizance of the fact of the several handicaps, including the lack of resources, leaving him with a government over-stretched in capacity, itself riddled with mismanagement. They noted that the country's army lacked training and equipment with little or no will to engage.
"In recognition of the fact that the security threat of the Boko Haram had gone beyond Nigeria, equally affecting other countries in the region, the G7 conceded that no one country can tackle it alone.
Warm sentiments towards Buhari
"They expressed warm sentiments towards the Nigerian leader and praised him for reaching out to the country's neighbours and the group of industrialized nations within a week of his takeover of government.
"In view of the seriousness he has shown in tacking this problem, the group pledged that they would 'engage, cooperate and collaborate' with President Buhari's government in tackling the serious problems that Nigeria faces.
"They left it to President Buhari to come up with the specifics on his requirements, assuring that they would study the requirements either individually or collectively and offer help. They asked to know the nature and the scale of the problems in order to know the nature and the scale of the assistance they will provide. Suffice it to say that they assured President Buhari that 'Nigeria will find a partner in the G7.'"
President Buhari, who had the privilege of being the first to address the G7 among the invited presidents and prime ministers was warmly received at the summit. He returned to Nigeria yesterday.