Born to the prominent Adediran family in Lagos, Princess Adunni Adediran has always had a soft spot for the less privileged in society. The s uccessful businesswoman, mother and philanthropist just a few months shy of her 70th birthday met a lot of brick walls over the years after she launched a non-governmental organization (ngo) celebrating chastity before marriage which she called Nigerian Virgin Girls; and has had to rest the program for some years.
This year, by "popular demand", she is revisiting the annual celebration which would culminate in the Miss Virginity Pageant. Speaking to Vanguard, she shares her journey. Excerpt
How did celebrating virgins come about?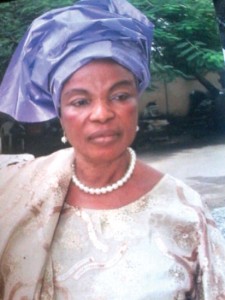 At a point, I started thinking of our old people in this country, so I published 'Fragile Fit', a magazine that was dealing with weak limbs of the elderly. Alhaji Lateef Jakande loved it and said the publication was even over due. As I was doing that, I dreamt 11 times where I organised 'Recognising and encouraging the virgins in Nigeria'. That is how I started the project in 2007.
Why has there not been consistency in organising the annual event?
I spoke to the who-is-who in this country for sponsorship such Princess Erelu Dosunmu, Late Ambassador Segun Olusola and many others. A lot of them indicated their interest to help but we did not get sponsors except for the owner of Emily Millionaire cosmetics, Joe Brown, who was giving us cosmetics.
Rado was giving us wrist watches to distribute to the virgins. The one that really touched me was the help we got from the former Arch Bishop of Lagos, Diocese, Olubumni Okogie (rtrd). I am glad he appreciated that we are doing something good.
We wrote a letter to the Lagos State Government but didn't receive a reply but they gave us the Banquet Hall where the event took place. Financially, an important personality in the Lagos State Government gave us N250,000 in 2009. We would also like to collaborate with NACA. This project is supposed to be a collective responsibility of every Nigerian.
In spite of the challenges we are facing in organising the annual celebration, a lot of virgins came from Enugu, Aba, Delta, Onitsha, Port Harcourt, Lagos, Kaduna, Kano and Abuja. I even sold my house in Ikorodu, Lagos to host and encourage virgins. We also got threatening phone calls from some highly placed men in society threatening to kill me if I did not stop celebrating virgins. They said I am disturbing their fun.
So what changed your mind?
For years, I was walking like a living corpse because I could not continue to host the annual event for virgins. It is unfortunate.
To see a virgin in the modern day Nigeria is not common. How do you ascertain their virginity?
A gynaecologist, Dr. Naheem-Deen Ekemode, who has practised for more than 40 years, was doing that for us. Within a second, he will know whether someone is a virgin or not but some parents started frowning about it.
But are there still virgins amongst ladies of marriageable age?
I have virgins even in my home. My own daughter got married as a virgin at 29. There are many virgins in this country but they are shy to come out because their wayward friends mock at them. They call them fools because they want to spoil their lives before marriage and there is nothing more interesting and good one would be proud of than keeping one's virginity. In fact, God loves it because I heard the voice several times, urging me to go and encourage virgins and I will not stop it till my demise.
Most men complain that marrying a virgin gives them concern. To them, it is like relating with somebody who cannot satisfy them sexually.
They are saying it because they are in doubt of the authenticity of our claim that there are still virgins. They know that if they marry a virgin, they have assurance that they are marrying somebody who has not tampered with her womb or who has not contracted sexually transmitted diseases. You cannot compare used engine with a brand new one. Men are not realistic. All these they are talking that it is difficult to get virgins is not true. Some men will use these girls, de-flower some of them and at the end of the day, they will jilt them and run after another girl.
We are in year of 21st Century with internet associated sexual activities. How do we check that?
Our business is to encourage virginity, to wake up parents and tell them to make a change in life of a girl in their hands. It is like Sodom and Gomorrah. Men will do it and go free, although some of them will contract virgins and won't be able to impregnate their wife. Men too should remain virgins till they marry. In pre-marital sex, men will waste important children including presidents in their body before getting married.
What do you teach these girls?
How to keep away from the prying eyes of their uncles, teachers, lecturers and friends. We will teach them how to minimise going to places where they will put something in their drink and rape them.
But how long can one remain a virgin?
It is not good to remain a virgin till above 30 years. When you are in your 20s, pray and ask God to give you a husband. Don't go in the late hours. I have a 21-year-old virgin living with me. I always advise her to keep her virginity.
Have you ever been challenged because of this project?
I have got a lot of embarrassing questions and comments but I am not perturbed.
Some people sent me text messages and some of them called me and said that I am crazy. One of them said, "Why are you blocking us from enjoying the virgins God made available for us?"
What are the criteria for winning the first prize at the Miss Virginity Contest?
The intellectual prowess, legs, faces and carriage are parts of the criteria. We are more interested in the beauty from inside so we want to know how intelligent they are.
What advice do you have for ladies in Nigeria?
If you are a virgin, remain so until you are married. If you are not, put a stop to having sex till you get married. If you have been cheated by an opposite sex, take heart.
We want to catch them young and make sure that some sexually transmitted diseases are reduced to the barest minimum in Nigeria. They are doing it in Ghana, South Africa, Japan and so on.
I want Nigerians to come together and help curb sex before marriage to save our future.