By Johnson Omomadia
Spiritual commitment is what confers spiritual authority. Spirituality is what will deliver your destiny. When you are committed to the things of God, God gets committed to your things and your things begins to obey your command. Psalm 37:4-5, says "Delight thyself also in the Lord; and He shall give thee the desires of thine heart. Commit thy way unto the Lord; trust also in Him; and He shall bring it to pass".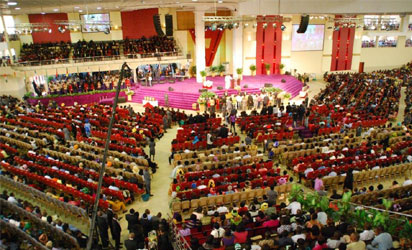 One of the greatest secret to spiritual commitment and command is soul winning. John 15:16, says "Ye have not chosen me; but I have chosen you, and ordained you, that ye should go and bring forth fruit, and that your fruit should remain: that whatsoever ye shall ask of the Father in my name, He may give it you".
God has commanded that you win souls into His kingdom and ask for anything and it will be yours. Also, according to Gal. 4:19, you are to pray for their spiritual development, so that Christ is formed in them.
You commit God to the issues of your life when you commit yourself to servicing what is uppermost in His heart (salvation of the souls of men). The probable reason your prayer has not been answered is because you are not obeying His command of soul winning.
God does not waste time in responding to those that are committed to soul winning and serving Him wholeheartedly. When the children of Israel in Egypt made up their mind to serve God, God heard their cry and gave them favour and the Israelite did not leave Egypt empty handed. Their years of labour without pay came to a sudden end (Exo. 3:7-8, 21; 12:36).
Favour came upon Zion when it took a stand to serve God. Psalm 102:13-15, says: Thou shalt arise, and have mercy on Zion: for the time to favour her, yea, the set time, is come. For thy servants take pleasure in her stones, and favour the dust thereof. So the heathen shall fear the name of the Lord, and all the kings of the earth thy glory". Until you begin to favour heaven's agenda, you may never enjoy God's favour well.
Divine favour is one of the benefit of our spiritual commitment to God. Joseph enjoyed God's favour because of his spiritual commitment to God. He told Portiphar's wife who wanted to make him fornicate with her that he cannot do this wicked thing and sin against God. You cannot bring a harvest to God and not have something to show.
How aligned you are with God is what determines His hand upon your life. The three Hebrew boys refused to bow to Nebuchadnezzar strange gods and encountered the wonders of God that won over the king and the nation that also led to their promotion (Dan. 3). Be out for God and watch God go out for you.
It is time to know God. The proof of knowledge is result. They that know their God, shall be strong and do exploits. Apply the kingdom first principles in your life. Pray kingdom prayers. Support kingdom agenda. Win souls and live for the kingdom and your life will be a delight to multitudes.
Some people have been Christians and been in church for years without any soul attached to them. Prov. 11:30, says ….he that winneth souls is wise. It is therefore urgent that you start getting involved in the business of soul winning. Surely you will only put resources in the hands of a wise man. You must shut up the mouth of hell through prayers and effective soul winning. As you turn many to righteousness, your star begins to shine (Dan. 12:3).