By Victor Gotevbe
Please tell us about yourself:My name is Sucex Bright Ibeh; I was born over 30 years ago into the family of Mr & Mrs Felix Ibe Arungwa from Abia State.I'm happily married to Ruth Egwuoniso who hails from Rivers State. I had primary school and secondary education in Abia State from where I moved on to have my Higher ND & HND in the Abia State Polytechnic.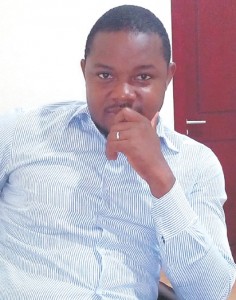 After my National Youth Service Corps in Ekiti State, I proceeded to the University of Ado Ekiti for post graduate studies, and I also obtained professional certificates from the London Academy Business School (LABS). I had a very humble beginning and a rough time going through school but had a determination to change things around me and make my parents proud in future.
This resolution kept me going, I made sure I never complained, but did some small scale business like buying shirts and boxers from the market and sold to students in school, and I used the proceeds to buy textbooks and hand-outs for my studies.
I remember trekking a long distance along Ngwa Road to Abia State Polytechnic on a daily basis because my pocket money was never enough to take care of my feeding and accommodation, it was very tough to survive.
Career: I currently work as the Country Co-ordinator, Africa Youth Chamber of Commerce and Investment, an organisation that advocates youth enterprise and entrepreneurship in Africa, and I am also the Business Development Manager (BDM) at London Academy Business School (LABS). LABS manages complex and challenging educational trainings for the working class and post graduate students, corporations, government agencies etc in four continents including Africa, Nigeria.
Prior to joining LABS and AYCCI, I have worked in FinBank PLC where I managed a portfolio that ran into hundreds of millions and was recognised as the best marketer after which I moved on to be a pioneer Business Development Manager in Mekatrice Group where we brokered many business deals in the oil & Gas section of the company and also executed partnership deals between the Diagnostic arm and Newham University Teaching Hospital United Kingdom.
I also consulted for Integral OD Limited United Kingdom here in Nigeria and was part of the team that carried out management review job at Lorensic Specialist Hospital Enugu, while I was at Mekatric Group.
What has been your greatest motivation?
My motivation is inborn because I decided from my childhood to change things around me—but this could only come from God. My motivation is first and foremost from God who has inspired me to make efforts to become successful in life in spite of my humble beginning and tough challenges through life. Another blessing God gave me is my wife who always inspires me to move forward and achieve all my dreams.
Secondly, I drew inspiration from the lives of great leaders and popular speakers like Edwin George Okor who always told me years back I was blessed with many talents and he encouraged me to start something. I have read about Sir Mbonu Ojike, Benjamin Disraeli, Winston Churchill, Nnamdi Azikiwe, Martin Luther King, Jr. the late Senator Uche Chukwumereije, Frank Nweke Jnr, Adams Oshiomhole and the iconic contemporary speaker in the mold of President Barack Obama of the United States of America amongst other elites.
Digging deep into the early lives of these great leaders, I discovered they started from a very young age to develop and distinguished themselves in specific areas they excelled, and not having had such opportunities in my growing up, I set out to create a platform outside the school curriculum or environment where young children of 4-20 years can learn basic leadership skills like public speaking, and prepare them to become the leaders of tomorrow. This is how we established our project for young minds aptly called the Orator.
Furnish us with details of this platform for kids.
The Orator Project which we started in 2013 is our response to the demand for quality education beyond schools and the need to foster the spirit of entertaining academic programmes geared towards improving the standard of public speaking and 'off-the-cuff' oratory amongst our young students.This is a primary and secondary schools' project aimed at propagating effective reading,public speaking and good leadership skills among young ones.
The Orator Club vision is to empower all children to become contributing members of the communities through quality teaching that goes beyond conventional education. Based on the understanding that an average individual can sit and listen for about 10 minutes and get bored, we use various ways to engage children during our sessions which hold every Saturday in different locations across Nigeria.
The Orator programme is not in competition with school programmes or courses, or other established youth projects. Instead, it's complementary to these programmes, providing emphasis on specialized speaking and leadership skills, and individual needs. Participants learn to overcome nervousness when speaking before an audience, organize and present ideas logically and convincingly, listen carefully to others people's ideas and take useful notes while also constructively correcting others' mistakes thereby improving self-confidence amongst others.
What Projects are you working on?
As part of our activities, The Orator Club is organizing, 'The Future Leaders Conference & Award',an initiative to celebrate the young minds that are fast developing to take their place in leadership and the schools that have made impact in their lives. This project billed for June 6, 2015, at Golden Tulip Hotel & Conference Centre, Amuwo Odofin will enable children showcase their talents and receive special recognition awards for their outstanding skills and abilities thereby encouraging and propelling them to greater heights.
Also, schools and individuals in the society that have contributed immensely to the standards of education in Lagos and Nigeria will be given special recognition awards for their laudable impact. The plan is to partner with media organizations and corporate bodies that have interest in the development of young minds in the form of sponsorships, adverts and gift items for the children.
The Orator Leadership Magazine for Schools will also be launched at the event which Golden Tulip Hotels Festac is a major sponsor. We are currently working with about 50 schools in this project and over 2000 guests are expected at this event.
How has your program impacted young people
We have seen children who could not say their names when they joined the club as a result of shyness but later become very eloquent and speak boldly in front of many audience. Our approach of using Interactive Lecture Presentations which involves the use of materials like visual aids, hand-outs, question/answer sessions, flipchart or objects to support lecture and participants contributing accordingly have yielded immense results.
We also have video sessions where a short clip of film is shown to help give participants a visual concept of the topic and an assimilation assessment is done during and at the end of the training programme to ensure that the objectives of the training programme are achieved. Beyond teaching skills through training, it is important to develop the essential behaviours and attitudes that will enable the young ones adequately utilize their newly acquired skills.
Our personality interview/audience sessions also enable these children meet with successful individuals in the society who have distinguished themselves in their various spheres of endeavours. The children ask spontaneous questions and these personalities give practical advice on leadership. All our programmes have helped participants improve self-confidence, self-esteem and so much more which the children and their parents have attested to.
What are the expectations of your June 6 Event?
It is a bumper package of fun activities that will range from drama, bale dance, singing, fashion parade, comedy and all areas of the arts mixed with educational activities. Also, exceptional skills from the Orators members will be on display in form of leadership presentations and public speaking. Ace comedians like MC Acapela, Baba K, MC Prof,Sound Sultan, Chima Ralph etc will be there.
There will be award presentations to the children with outstanding skills and abilities while schools that have contributed immensely to the standards of education in Lagos and Nigeria will also be given special recognition awards. A few individuals in the society who have distinguished themselves in their chosen spheres and impacted the society and young minds positively will also receive special recognition awards. We will also be launching The Orator Leadership Magazine for Schoolsand exhibition by schools.
Tell us about your challenges?
Just like every other project in Nigeria, Mr Sucex Ibeh has had his own share of ups and downs and recounts that the two major challenges have been how to convince parents that their children need well-articulated extra-curricular activities to become outstanding. Most of them think it's enough to send their children to school and after that, lesson teachers comes to the house and continue from where they stopped at school.
We believe this is also a valuable part of their learning process as the Orator Club Meetings holds once a week and on holidays and is structured to be interesting and exciting.
We have also tried to solve inadequate educational grants by having strategic partnership with educational and leadership centres abroad including Integral OD limited Italy, Elvick Global Resources United Kingdom, LABS consulting UK & Thailand and locally with companies like PhamartexIndustires limited, Charles Lorie French schools and Adnil Travel Agency, with Golden tulip.
What future Plans do you have for the Orator Project
The Orator Club vision is to transform into an academy where children will attend intensive coaching programmes at weekends and holidays. We want to run a full curriculum in the future and look forward to having a network of sponsorship platform where the Orator Club activities and other planned competition will be aired on television and radio.
What advice do you have for young people?
You can achieve anything you set your mind to do but be ready to learn what it takes to achieve it. The Road may be rough at the beginning but smoothens along with consistency, persistence and hard work. Young people should never give up on any of their dreams because an abandoned dream never reaches its destination.
Subscribe for latest Videos