By Benjamin Njoku
Three things are bound to endear you to Pete Edochie whenever you are privileged to meet him. One, his sense of humour, two, his values as a father and an actor, and then, his command of the English language. All these qualities played out last weekend, when Showtime Celebrity went after him, and finally tracked him at one hotel in Owerri.
Quite inseparable from the roles he plays in movies, Pete who played the lead role of Okonkwo in the NTA adaptation of Chinua Achebe's best selling novel, Things Fall Apart, speaks passionately about his life as an actor, broadcaster and his marriage. Interestingly too, he speaks about the role he played during the civil war.
Intermittently sipping from his palm wine , regularly refilled during the interview, the movie legend opens up on how he got the role to play Okonkwo in 'Things Fall Apart', describing it as 'most challenging, and one that immortalized him. This is Pete Edochie like he never before. It's only the first part of our Showtime exclusive thriller.
Your first son, Uche, who studied Fine Art at UNN is my friend. How's he doing now?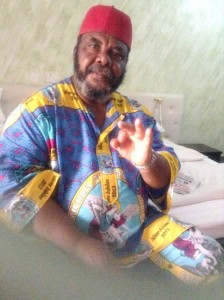 Uche is not my first son, rather he is my fourth son. My first son is 45 years old now, and I am 68 this year.
Wow, you married very early.
Yes, I did. I married at 22.
Why did you marry that early?
Well, the civil war was going on, and I was a very good looking young man. I was being admired by many women and I thought if I decided to dissipate my manhood in their company, it wouldn't be a plus for me. So, I got married and I think, it is the best decision I have ever taken in my life. I haven't regretted it.
How old was your wife when you married her?
I wasn't the person that gave birth to her. So, I wouldn't know about her age. But she was old enough to get married and she got married to me.
During your time, was there anything like courtship or dating?
My wife and I were contemporaries in broadcasting. I liked her and she liked me too. With time, it developed into a very strong affection that we thought if we didn't give a definition to our relationship before the end of the war, there would be strong possibility that tongues would wag and I would be accused of exploiting this young girl and disappearing at the end of the day.
I hail from a very strict paternal religious background. I am not that kind of person who would be 'in and out' of a woman. So, we got married and that's it.
You were talking about the civil war. Were you part of the war?
I was. I was in the Voice of Biafra. We were moving from place to place and whenever the war drew nearer, we moved away from the place. At a point, I had to go to the war front to perform some professional duties which I won't disclose now. I survived the war, I made my own contribution and I am happy about it.
I am always proud of my involvement in the war years. I was born and raised in the northern part of the country. But I was chased out of the region in 1966, and by 1967, the war began. I was a broadcaster then, and because I understood and spoke Hausa fluently I had to go to the war front.
Whenever you relive your Civil War experience, do you feel sad or happy?
No, I can't be happy. I mean I couldn't be happy. There was so much carnage and there was no justification for it. There was little provocation for the war. So, it was a programme intended to wipe us all out from the surface of the earth. Some of us were lucky to have survived. It is not what I would wish any enemy of mine. It's an internecine experience, it's not a good one. Everybody who experienced a war wouldn't like a re-occurrence of such horrible experience. It's a traumatic experience.
You present a picture of tough-talking and aggressive Biafran soldier. Do you somehow reflect your Biafran experience in the interpretation of your roles in movies?
Curiously, I was not a Biafran solider. I went to the war for a specific assignment but not as a solider. I happened to be very strict by nature. I have five sons and eleven grand children. It is because I am strict and that's why I was able to control those young men. If God gives you male children and you are soft, they will be wasted. I think it reflects in my movies because I am a very strict person.
If I am playing the Igwe role, I am an Igwe through and through. My wife has a little to play when I am an Igwe. Ordinarily, in an Igbo culture your wife has little role to play in the Igwe's affairs. The Igwe has his cabinet, he addresses them and they discuss issues affecting his Kingdom. The wife has little role to play, and when I am playing the role of an Igwe, my wife does not function one day. She can come in and bring kola nuts and greet my guests. That's it. In that regard, I am not weak at all.
WHY I DON'T STAR IN MOVIES REGULARLY
You happen to be one actor that cannot be beaten in terms of role interpretation, and most times, you are not easily influenced by money to star in some movies. But in recent times, one observed that your face has been missing on screen?
Thanks for the compliments. I elect not to feature in any kind of movie. There are people who would star in any movie because of money. That's the essence of their involvement. But for me, it's not. One, I am a professional through and through and secondly, in all modesty, I am a role model to a lot of people who see me and believe in whatever I represent. I think it's some virtue for me.
And it's not my intention to let them down. Societal expectations compel moral rectitude and I don't want to disappoint those expectations. When I am given a script for a specific role, I read through the script and if I don't like the role I drop the script. Sometimes, a producer pays money into my account without my knowing it.
If I am given a script, I read it and if I don't like it, I will return the money to the producer. I do that most of the time. If a script has a message for the people, I would accept it and if it's purely intended to amaze people, I don't star in such movie.
Most veteran actors at one point or the other have veered into producing films, but in your own case, you have remained an actor?
What's the point. I am an actor through and through. I was trained professionally as a broadcaster in the BBC. When it comes to delivery and interpretation, I don't think other actors operate at the same level as I do. They don't and so, why must I leave it and go on to produce films.
It doesn't make sense. I want to remain an actor. Occasionally,I contribute to writing scripts, and I try to bring up my calling too while we are on set and they appreciate it. The producers like me for that. I don't think it is my intention to become a producer.
You trained as a broadcaster. At what age did you join broadcasting?
I joined broadcasting at 20 years, and got married after two years. I got married during the war.
What inspired your decision to go into broadcasting?
I have always wanted to be a broadcaster. There are three professions that have always fascinated me. They are journalism, broadcasting and acting. And I have been able to involve myself in these three professions. I did a course in journalism and television after I left the secondary school. And that was before I joined my father in the Nigerian Railways.
I wrote for some newspapers after that. I joined broadcasting after which I am now at the third phase which is acting. So, I have always wanted to be involved in the three professions. I think I have realized it. I was influenced by a few people who sang in those days, and I thought I could also join them and do some singing. I'd sing, but not professionally.
Of course I do! But I do not intend to go into singing. I am satisfied with what I am doing. You mean I should start singing like some of these little kids that are in our industry?
At what point did you bid farewell to broadcasting?
To be honest, actors don't really quit. Your involvement may not have the kind of regularity it used to have while you were much younger. But there must be need for your services at any given time.
There was an actor who was playing Dracula in those days called Christopher Lee. He died five days ago at 99. There were some people who inspired us when we were coming up, most of them you may not know certainly;
people like Charleston Huston who was the president of Actors Guild in America – he died a couple of years ago at 82 years; Anthony Queen also was 82 years, D' Martins, Robert Nichem and many others who are in their 80s but still remain relevant till date. Progressively, your appearances keep diminishing as you age, but again, if you are not playing a father, then you are playing a grandfather.
There is no limit to the age when a man is referred to as a grandfather. Therefore, you must always fit in there. So, you remain relevant as an actor, except you are not a very competent one which means you get rejected by the industry. I mean there is no need for your services again because you never really possess professional competence while you functioned as an actor.
So, I cannot tell you that next year I will quit. When the producers think there is no need for your services any more, you become irrelevant.
HOW I GOT THE ROLE OF OKONKWO IN ACHEBE'S THINGS FALL APART
In your movies, there is always a reflection of the Okonkwo character, the role you played in the NTA adaptation of Chinua Achebe's classic, Things Fall Apart.
That's what a lot of people say. When I did Things Fall Apart, I was 38 years of age. That was thirty years ago. I am 68 years now. People still call me "Ebube Dike" and before Chinua Achebe died he was calling me Ebube Dike. He never called me Pete, and we were very close.
Each time people visited him in America, he would ask them about me. He created the character and because he thought I interpreted it perfectly, he named me after Okonkwo- Ebube Dike. So, a lot of people still see me and refer to me as a Ebube Dike and I answer them.
When you got the script to play the lead character, what was uppermost in your mind?
When the script was handed over to me, I said to myself. This is the opportunity for me to read the script since we didn't read the book while I was in school. I was delighted to read it. Before then, I've not read the novel, Things Fall Apart. I knew nothing about it.
Now, it was to be adapted into a screenplay. People were invited to come and audition for roles. Somebody who worked with me in the broadcasting House, Engr G.C Ugwu (now late) recommended me. He was the Zonal Director of NTA in Benin in those days. He had always watched me in the broadcasting house where I worked and the moment they decided to produce the play, the first name that came to his mind as Okonkwo was me.
But there were other people that came for the general audition. I was invited to the audition and the venue was the main auditorium of he University of Nigeria, Enugu campus. The moment I walked into the auditorium, the white woman who was invited to handle costuming and other things saw me.
She just looked at me as I was coming in, and screamed, saying: "if this man could act, that's the man we want for the role." She never met me before that day. I walked in, and was given the script. Other people were also given the script to read, and when I read mine, they shook hands with me and said, we are good to go. They said there was no point continuing with the audition; that the role is for me.
As at that time, I didn't know the implications of being in that production. We went ahead and produced the play and I won an international award. I am proud to say that BBC flew into the country to interview me and Chinua Achebe too. Nigerians were phoning and congratulating me. It was a moment of crowning glory for me. I think it was a defining moment in my professional career.
The story as relayed in Things Fall Apart, have you ever come across such stories in our movies again?
This is a tricky question. But certainly no, because most of the stories are not thoroughly researched before the scripts are written.
I am a very serious culture custodian. When they give me a script, I try to thinker with it in order to understand the story. If I am not satisfied, I drop it and ask the producer to go and look for somebody else. There is nothing to compare with Things Fall Apart considering what we are doing these days.
Was featuring in Things Fall Apart the first production that brought you to limelight?
Yes, it was the production that projected me. I have played other little roles on television such as Segment of Shakespeare, Every Man, Realm of Violence, Resurrection and others. But Things Fall Apart was a full blown production. Because of its popularity as a set book, it was welcomed by a lot of people. They were not disappointed with the interpretation of the role. I feel very happy about it.