By Bose Adelaja
One person was rescued, Monday, as a commercial bus and some textiles materials worth millions of Naira were burnt to ashes on Third Mainland bridge in a fire outbreak involving a bus.
The incident occurred around 4pm, when the bus, a Volkswagen LT model, marked AGL 914 XE, heading for Lagos Island suddenly caught fire while in motion.
Vanguard gathered that the fire which occurred on Oko-Baba axis of the bridge was attributed to carelessness on the part of the lone occupant of the bus who was not in possession of a fire extinguisher at the time of the incident.
Motorists on the bridge were said to have put a distress call across to the state fire service, having tried endlessly to fight the fire which raged for about an hour.
At the time of filing this report, the victim was said to be unconscious and could not respond to questions from sympathisers and law enforcement agents, but was later rushed to a nearby hospital for medical attention.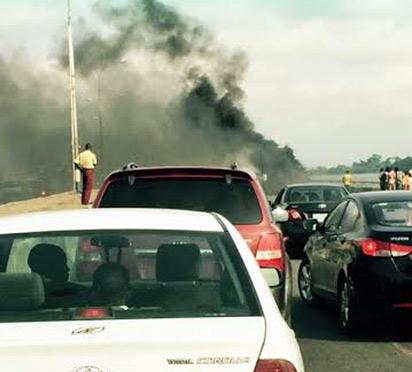 The incident was said to have resulted in a traffic gridlock which lasted for hours as onlookers and sympathisers waited to catch a glimpse of the development.
This also hampered the ability of the fire fighters to arrive the scene on time and put out the inferno.
Director, Lagos State Fire Services, Razaq Fadipe, confirmed the development, lamenting that the incident could have been averted, if the driver had a fire extinguisher on board.
''It is unfortunate that the driver who happened to be the lone occupant of the commercial bus was not in possession of a fire extinguisher and this was why everything was burnt beyond recognition,'' he said.