By Caleb Ayansanya 
ABUJA — The cultural practice of early marriage is one of the most potent threats to the rights of children in modern times with its cyclical effects being very prevalent in many parts of West Africa. Article 1 of the Convention of the Rights of the Child describes Child / Early marriage as the marriage of a child below 18 years of age. Although this affects boys and girls, girls are disproportionately more affected.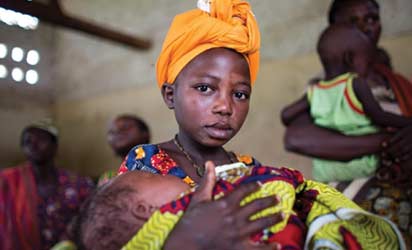 Every year, more than 1.5 million girls from all over the world – many just starting their adolescent years – become child brides. West Africa contributes the highest number to this statistics with 49 percent of girls married before they clock 18.
The Secretary General of WACSOF, Auwal Musa Rafsanjani said their sensitization and dialogue programme in six West African countries; Sierra Leone, Burkina Faso, Niger, Guinea, Nigeria and Mali revealed that poverty was a critical factor contributing to child marriage phenomenon in the continent.
"It is a common reason why parents encourage a child to marry. Poor countries and families often have few resources to support healthy alternatives such as schooling for girls. Where poverty is acute, a young girl may be regarded as an economic burden, and her marriage to a much older – sometimes even elderly – man is believed to benefit the child and her family both financially and socially.
"In uncertain times, poor harvest conditions or war, a family may see it is necessary to ensure the economical 'safety' of their daughter and family by giving her hand in marriage. The girl becomes therefore a social and economic burden to be disposed of. "Moreover, early marriage keeps girls and women in a cyclical poverty with lifelong consequences.
"Sometimes, girls are pulled out of schools or other training centers to be married to older men; who are already sexually active, heightening, therefore, their risks of contracting HIV/AIDS and Sexually Transmitted Infections (STIs). "Girls are also exposed to early pregnancy and its attendant ramifications, including high maternal health risks due to their young age. They miss out on economic empowerment opportunities, and, most times, are victims of spousal abuse and violence.
"Because of this, the tremendous cost of the practice of Early Marriage cannot be overstated, as it thwarts the future of young girls whose contributions to the well-being of the family and the community, if properly harnessed, can bring about sustainable development. The girl then becomes a social asset rather than a liability."
Addressing this issue effectively and proactively becomes a high priority in the overall efforts for the development and progress of the West African region. Although several international instruments have come up to form part of the framework to address the problem, the problem still persists as a major contributor to the various challenges which young girls and women in general face within West Africa.
Rafsanjani attributed the main challenge in the process of addressing the matter to "an acute lack of political will among policy holders in the various countries. This, however, does not preclude the work that civil society and other categories of Non State Actors have been playing in this regard.
"WACSOF's aim is to ensure that the serious social problem of Early Marriage is pushed out into the public domain using innovative multi-actor oriented strategies." To realize this, WACSOF is currently working with the Economic Community of West African States (ECOWAS) to set age limit for marriage through legislation to address problem of child marriage in the West African region.
Consequently, the group during a visit to the ECOWAS Parliament to deepen their collaboration on ways of child marriage issue in the sub-region, in Abuja, maintained that it would be appropriate to at least let a girl child clock 18 years before giving her out for marriage.
He maintained that having a regional voice on the matter would go a long way in resolving the problem and give girls in the region their desire future, adding that giving them out early for marriage did not only ruin their lives, but having negative consequences in the society.
According to him, "We are here on the issue of early marriage, we will like to call for the support of the parliament to have a regional voice on a minimum age limit for marriage in West Africa, as we all know, this is a very serious issue that is having serious negative consequences among our children, especially young girls, who had been taken out of school for marriage.
"We did not think that hardship or financial challenges should be the reasons for us to be taken our children out of school for early marriage. Many of them end up having problem of VVF or abandoned. So, we thought it is important in the region to agree on certain minimum age limit for children to be given out for marriage."
Responding, the Secretary General of the ECOWAS Parliament, Dr. Cheick Dansoko said issue of child marriage should be treated as criminal offence, describing it as evil to denied girl child of her rights enshrined in the law of the land by giving her out for marriage at a tender age as a sex slave to a man.
The Secretary General, represented by the Director of Administration and Finance, ECOWAS Parliament, John Azumah, maintained that leaders in the continent must go beyond rhetoric, and take action on the matter, promising to look into it with keen interest.
He said: "The act is wicked and it is criminal, it should not be allowed to happen in a civilized society, not in this 21st century that Africa will be practicing this type of dastardly act to our own children, especially the girl child.
"The constitution recognizes rights of a child to health, basic education among others; all these are enshrined in the constitutions of member states. We have to look into these provisions. We are here to represent the interests of the people of the West African countries, and we will work assiduously on this matter.
"As a father, I can't stand that for my daughter, I treasure my daughters, and I believe in girl-child education. African should begin to change our attitude and mentality, our thinking of female child. I want to believe, I may be naïve, if we begin to have women leaders at the highest political level, we will overcome some of these problems."