By Ochereome Nnanna
VICTORY, even when it is merely symbolic, is the sweetest feeling you can have. It does not matter if all you'll get for your trouble is a mere trophy, shield, certificate or applause. One of the greatest victories anyone can win in the world is being voted the President, Commander-in-Chief of the Armed Forces of the Federal Republic of Nigeria. The Office of the President of Nigeria is reputed to be the most powerful in the world because it is the repository of unlimited power, influence and money. That office is said to be so powerful that it can turn a man into a woman and vice versa, literally.
There was nothing more apt to illustrate this recently, than when Governor Rochas Okorocha of Imo State, led a delegation of All Progressives Congress (APC) governors-elect to President-elect, General Muhammadu Buhari with a wish list, even before the man is sworn into office. It contained their nominees for ministerial posts and a request for Buhari to help financially "bail out" the states, most of which have not paid salaries for months.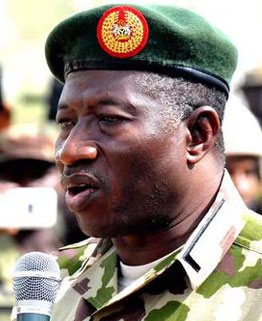 Buhari, in a suave move that started getting him taken seriously even by his most hardened critics (such as yours sincerely)told them off. He said those of them who had been in office for four years (which includes Okorocha) had no ground seeking a "bail out" since they collected federal allocations. As for their ministerial nominees, he told them to go and compose their own state cabinets and leave him alone to compose his, as the constitution does not compel him to grant their request. Bravo. Next time they'll think twice before coming forward with asinine requests.
Out-going President Goodluck Jonathan is now in an emotional doghouse because he lost his re-election bid. It was unforeseen and unprecedented. Now he is left, all alone, to fathom it for himself. At the valedictory church service held in his honour last Sunday, Jonathan came down to earth. In sobre tones, he disclosed that all his "friends" (especially the emergency billionaires he and Obasanjo created) have deserted him, expressing the hope that his wife would not also divorce him.
Reminds me of this beautiful song by Jimmy Cliff in the middle 1970's, which came in an album: Another Cycle (how apt for Uncle Jona's situation!). One of the songs is entitled: Inside-out, Upside-down. In it Cliff laments:
"All my friends deserted me, my woman ran away,
I am so frustrated I could shout!"
Well, Jona is much luckier than Jimmy. Retiring First Lady, Dame Patience Jonathan, is unlikely to abandon him. If she loved him when he had no shoes, is it now that he is a fulfilled and respected ex-President that she would "run away"? Run to where, anyway?
One great thing about President Jonathan is that he is very human. He's not hoity-toity, aren't we grand. You may disagree with his leadership quality and style, but because he is so human and self-effacing, rather than pompous and megalomaniacal like Olusegun Obasanjo, you don't want him humiliated. Jonathan has taken his presidential loss like a real man, and, like a real patriot, he has not allowed it to become a problem to the rest of us. Bravo.
But this other gent here, I can't tell him bravo. His name is Mallam Adamu Muazu, alias "Game Changer". What a befitting name for a party leader that took his ruling party to the most humiliating defeat in the annals of Nigeria's political history! They say in some quarters that he palmed off his party, the once great People's Democratic Party (PDP) to the opposition, perhaps in the same manner that some military officers handed over our battle plans and military equipment to Boko Haram terrorists and orchestrated dramatic desertions at the war front to allow the insurgents gain ground against President Jonathan.
The usual thing is for a leader that led his group to defeat to voluntarily give way. He does not need to be reminded, let alone prevailed upon, to do so. We saw how, in Britain, Ed Miliband of the Labour Party, Nick Clegg of the Liberal Democrats and Nigel Farage of the UKIP, apologised to their party faithful and immediately threw in the towel as party leaders. Usually when this happens, the party is given the opportunity to search for a new beginning and fresh hands to pilot its affairs. It shows the party is bigger than any individual and its survival is more important than the ambition of anyone.
But, of course, for individuals like Muazu and his co-travellers in the National Working Committee of the PDP, their positions as party functionaries are more important than the Party. It seems Muazu is prepared to continue his "good work" from where he stopped during the elections. If he remains as an unwanted party chairman, he could make himself the eyes and ears of the ruling APC should they want to use him as PDP used the late Admiral Augustus Aikhomu and Chief Don Etiebet inside the All Nigerian People's Party (ANPP) to render it ineffective as an opposition party. But in case the PDP presses ahead to force him out, he might take on the role of Abubakar Baraje and lead a faction of the Party that might eventually drift over to the new party in power, should that be the bidding of the APC.
Unfortunately, Muazu's dishonourable refusal to abdicate is being supported by some outgoing PDP governors from the North, some of who were parties to the conspiracy to sellout the presidency to Buhari in Arewa. A party chairman who lost the elections in his polling unit rubs insult into injury by boasting that if he leaves PDP it would collapse!
It is in the national interest that PDP is not totally destroyed by Muazu and company. If that happens, the APC will turn into a monster, and there will be no viable alternative to turn to. We will all be trapped once again in a dominant one party system, just as we were for sixteen years inside the PDP!