BY JOSEPHINE AGBONKHESE
Comrade Oyinkan Olasanoye  is the model changing the face of unionism in Nigeria. For her, the hallmark of a good unionist is the ability to argue convincingly rather than raucously. Oyinkan is, amongst others, Chairperson, Women Commission of Trade Union Congress of Nigeria, as well as First Deputy National President, Association of Senior Staff of Banks, Insurance and Financial Institutions, ASSBIFI. The comrade extraordinaire who clocked 50 last week lets us into her world of unionism in this interview.
Let us into your foray into unionism?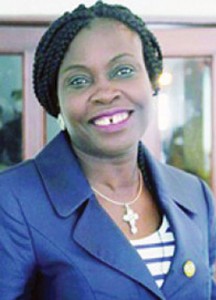 While working, I started noticing injustice and inequality and finally I noticed that it seemed as if those involved in unionism were not enlightened. I decided to join the union just to prove a point that those involved in union are not nonentities. I started my career with Eleganza as a Material Manager before moving on to the Royal Exchange Group in 1993.
That is where I have been till date. I have worked with the Central Agency Account and the Credit Control. I have also worked as a National Product Manager, Royal Personal Pension Plan, as an Administrator. Presently, I am a manager in the company. I joined the union when we were trying to enlighten people that unionism is not about banging of tables, but about superiority of arguments
Trade unionism is a male-dominated field, how do you cope with the many meetings? Are they not affecting your personal life?
I am one of the few women in unionism. When I joined, my children were very young and I am one of those who believe that if you live in Lagos and you work in a financial institution, it is better you enrol your children in boarding schools, because, you won't be of any assistance to them either in doing their homework or in their upbringing.
I leave my house as early as 5.am and I return very late at night. I however ensure I apply for my annual leave during their holidays so I can give them the necessary parental care. My husband is also a very busy person. We don't really meet in the night, except when we are outside Lagos
But how easy was it for you to earn your husband's trust?
I tell people that my husband is my tap root. He is the silent person who nourishes me. He so much believes that no man can monitor his fellow being. He trusts me so much and he believes that Holy Spirit is always around me to work with me. I have always worked in the midst of men. Even in my family, we have more men than women. I have been so fortunate that I have not really faced any sexual harassment.
When I suspect that you are trying to do anything funny, I speak out and you know that pisses men off you. Above all, I have a wonderful husband who lets me aspire. I believe that no woman should be idle and I don't believe any woman should be a full-time housewife; we need to complement our spouses' efforts.
Many believe unionism is all about Aluta and strikes, but is that really true?
That's not the all there is to unionism. A good unionist must be very soft, very polite and he or she must be able to stand his ground when the need arises. I may not look tough, but an African woman must be able to pass on her information with a soft voice, expressing herself and keep on knocking until the door opens
Most activists like you have ended up becoming politicians. Do you see yourself embracing partisan politics in the nearest future?
I don't see myself becoming a politician. I have so many things I can do without being loud about it. I have come to realise that unionism is not about force, but about goodwill; it is all about somebody somewhere trying to fight for the right of others. Even when I retire, I will prefer to be a consultant, letting people know more about unionism.
I don't want to be a politician. God is always with me when I am on the table to negotiate and there is nothing I have not achieved on the table of negotiation. I am fulfilled as a unionist.