By Paul Bassey
Last Saturday, May 16, the who's who in track and field in the land gathered at Okpekpe, a sleepy town, about 23 kilometres from Auchi for the 3rd IAAF Sanctioned Okpekpe 10 Kiliometre Marathon.
For those who have been regulars at this fast growing event, there were a lot of stories to tell, about improvements, innovations and excitements galore. For yours truly it was the first appearance at the yearly event programme I and Aisha Falode were listed as Protocol and Ceremonial Directors.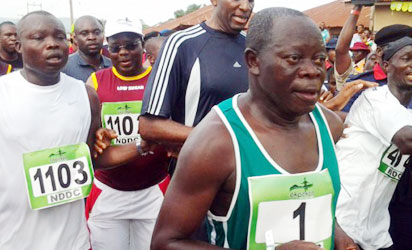 A thirty minutes flight to the ancient city of Benin was all we needed to know that Okpeke was real. Giant bill boards, Buntings and signages welcomed you to Edo state and signposted you on the major routes in the direction of Auchi, destination Okpekpe.
We arrived Auchi ( Operational base ) on Thursday and quickly decided to do a tour of the marathon town. Driving through the windy and hilly route with thoughts of suffering marathoners is compensated by the heavenly scenery and greenery that presents a picturesque view fit for a classic post card.
Okpekpe town may not be everyone's delight, at first sight. Few minutes to soak all in and one appreciates the enormous tourism and economic potential waiting to be tapped. With a population of less than 4000 inhabitants, one notices the body language and proud gait of the locals who on this Thursday afternoon have started soaking in the pride of belonging to a town that will soon explode on the world sports horizon as has been the case these past two years.
The indigenes are friendly and have cause to be. The Okpekpe marathon has not only placed their town on the world athletics map, but has also opened up the indigene to a life long opportunity of mixing with the high and mighty of politics, sports and economy, not only in Edo state, Nigeria but the world at large.
The Okpekpe marathon affords sons and daughters the opportunity of playing significant roles as volunteers, not to mention the commercial boom that it brings to attendant and relevant businesses.
Tony Egbabe sums it all "…. How many towns in Edo state can guarantee the presence of His Excellency the Governor at least once a year? See all these athletes that we only see on tv from foreign lands, here we shake their hands. Nollywood stars, captains of industry, managers of banks and top business concerns, first class journalists and broadcasters…..Okpekpe has played host to all of them……we are blessed"
Friday, the "sleepy Okpekpe" comes alive, fully awake as a beehive of activity threatens the serenity of the town. Media installations, athletes on a last lap route familiarization tour, mounting of giant tents, sponsors banners……..frantic efforts to be ready for the next day as the media is agog with stories of preparations and previews of possible champions of the total prize money of over $200,000 dollars US, international men and women and domestic runners.
Saturday morning, as early as 5 am, security personnel are in place. Finishing touches are put to the activities in preparation for the great flag off. The people of Okpekpe refuse to be undone, coming out in their hundreds dressed in their Sunday best, led by dozens of red cap chiefs resplendent in white. Traditional music and dances rent the air as the world awaited the start of the race that has in less than three years earned Road Race   Bronze Label certification by the International Amateur Athletics Federation (IAAF) hence the top quality entries and participation.
The carnival has begun. Dignitaries, sports stars, musicians and politicians arrive, even as Sponsors and partners struggle for visibility and promotion of their goods and services.
For this particular edition there are speculations as to the participation of Governor Adams Oshiomole who has religiously kept faith with the race these two years past. Rumour has it that with the Governor wedding that Friday and the attendant stress involved, ( including first wedding night) he may not wake up early for his race scheduled to flag off at 8am!
How wrong. Not only did Governor Oshiomole show up, he stuck to his 10 kilometre mark and finished in grand style, doing press ups and flexing his muscles at the end of the race.
The arrival of Governor Oshiomole at the finish line generates fresh rounds of excitement and fun as many clamour for the quality merchandise on sale at site (Towels, bags, face caps, waist bands etc)
News comes in that the athletes were on their way and again, the hustle and bustle to catch a glimpse of the marathoners as they arrive. Who will it be? Who will be crowned Okpekpe champion for 2015? Will Nigerians upstage the foreigners and cart home the $25,000 prize money for champion?, it took only 29 minutes and 20 seconds for Alex Korio of Kenya to emerge on the horizon hotly challenged by Leish Gabrielselase of Ethiopia and compatriot Amos Mutei.
Unlike what happened last year when the Ethiopians swept the women's race, the Kenyans did the triple this year thanks to Tanui Aifele, Rionoripo and Mary Wacere.
Its congratulations galore for another successful end to a vision that was designed to bring "…..sporting activity to the door step of Nigerians with the sole objective of engaging the youths, communities and building champions"
Race founder and Chief Executive Officer Padmozi Sports Marketing Nigeria Limited soaks in the congratulations of all present, he thanks Governor Oshiomole and the sponsors for their support, commends all those who toiled day and night to make the current edition a success and promises an improved edition next year.
Departures as Okpekpe reluctantly regains its peace, looking forward to next year……
See you next week .