By Victor Gotevbe
M any leadership experts have said change begins from one's circle of influence. Obinna began from his circle of influence, after an opportunity to study in the US which changed his life in no small measure. Today, he is the Global President of Independent African Youth Parliament. He is very passionate about changing positively the lives of several young people in Nigeria and beyond. Hence, his strong desire to see the execution of African Youth Charter. He spoke to Vanguard recently on his journey so far.
On what inspired you to go into social works.
My mum is a humanitarian to a fault, she feels bad if she encounters other people's challenges. She had such people in our home including cameroonians who were somewhat homeless in Nigeria. She housed and provided funds for little trade so that they can support their homes. You could see it's genetically from the blood. But I modified mine after acquiring education and training from the prestigious University of Rhode Island, USA, where the approach to conflict was infused into my blood system as was used by late Martin Luther King Jnr to fight racial segregation nonviolently.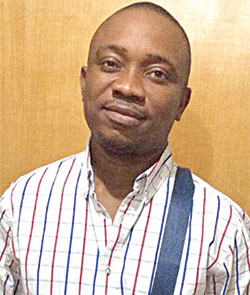 Many Nigerians around me don't know that I am professional,and my strength lies in my ability to mobilize and organize people as was confirmed by the head of the institution, Dr Bernard Lafayette . I came back to Nigeria a totally changed man, courtesy of two institutions in Nigeria, Shell Petroleum Nigeria and Foundation for Ethnic Harmony in Nigeria (FEHN). Madam Eka Okoro of shell and Barr Allen Onyema the CEO of Air peace influenced me. I started practicing what I learnt in the USA, that informed my floating an NGO known as SAFE COMMUNITY NIGERIA. Passion and commitment are my two key principles and they drive my interest in social works.
Impact on young Nigerians
My works have impacted on lots of young people. To sum it up, when FEHN trained me to become a Global nonviolence Practitioner, I started transforming and changing the lives of our militant brothers from the creeks of Niger Delta then through trainings. I exposed them to the force powerfully, the non-violent approach. I have done a lot, and I'm still doing more. They all can attest to this.
The Birth of Independent Pan African Youth Parliament (IPAYP)
Concerning the IPAYP, it is an evolution. A metarmophosis of an opportunity given to young people of Africa  by the leadership of Pan African Parliament under late President Iddris Ndelle of Central African Republic. I was invited to represent the West African Sub Region in that programme, therein I emerged as the pioneer continental president of Pan African Youth Council. We were to evolve into Youth Parliament. After my tenure,
renowned youth leaders from Africa's five regions converged and I had the mandate to become again the pioneer global founder/president of this organization. We coined the name INDEPENDENT, hence the name, Independent Pan African Youth Parliament. It was not conceived without Patson Malisa from Eastern Cape South Africa, who is my global deputy.  Najma Abdi Ahmed from Somalia is the secretary general.  We have other executive members from DRC, Zimbabwe, Kenya, Uganda and Morocco. Our core mandate is to popularize the African youth charter and advocate, canvass and influence the government of the day for its implementation. It has under gone ratification and endorsement, what then is holding the implementation? That is the big task ahead of us, but I am optimistic that with the wind of democratic change blowing across African countries including Nigeria, we will overtake the challenge.
Our going projects
At the moment, we are creating awareness about the organization, the mission statement. We are also planning to convoke the mother of all youth summit in Nigeria tentatively by July or September. We shall address salient concerns and openly urge stakeholders to carry out the contents in the African youth charter. We are using our personal resources to work for our continent. We want to write to  authorities like AU, EU, WHO, American Embassy to see our programme plans and support us with funds. We can also call for funds donation sect, explore genuine means of raising funds to facilitate our programmes.
Mentorship
My mentors and role models are many, God is my number one role model; my mum,  above all if not for the support from Shell through Madam Eka Okoro I wouldn't have been discovered by the world authorities.
My advice to young people
Young people should stay focused on doing what is morally right, shun vices that are usually inimical to the economic growth of our society and help our leaders with our social contributions.
Subscribe for latest Videos