By Omoh Gabriel, Business Editor
Last week, the President-elect, Muhammadu Buhari, told the nation in an interview with a national newspaper that he gets confused when Nigerians talk about subsidy.
He said: "One of the problems I have, other than the military, is the petroleum industry where I served for three and a half years under General Olusegun Obasanjo. When people start talking about subsidy I honestly get confused. I will tell you this, and I hope it will answer what you want to know. Back then we had a refinery in Port Harcourt, which was refining 30,000 barrels a day of Nigerian crude.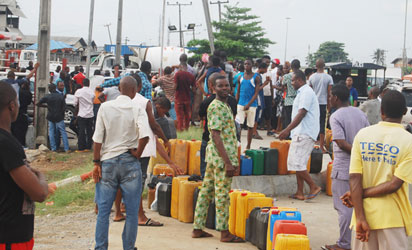 "Later, it was upgraded to refine 100,000 barrels a day. Another refinery was built in Port Harcourt to refine 150,000 barrels per day of Nigerian crude. So, Port Harcourt alone had the capacity to refine 250,000 barrels per day of Nigerian crude.
"But when I found myself as the Minister of Petroleum, I set up another refinery in Warri for 100,000 barrels per day of Nigerian crude and the Kaduna refinery a 100, 000 barrels per day. So Nigeria built capacity to refine 450,000 a day.
"Four hundred thousands of which is purely Nigerian crude, but 50,000 was imported. The type of crude could be Venezuelan, which could be a bit heavier. But the lighter ones— kerosene, aviation fuel, diesel, PMS of different grades could be produced from our crude because Nigerian crude is about the best in the world.
"If you could recall, after finishing as Minister of Petroleum, I subsequently became Head of State. You remember, I appointed Professor Tam David West as the Minister of Petroleum. When we rounded up bunkers, collected their illegal jetties and allowed jetties for only big firms which were doing production and development in the country, we were shocked that we had too much fuel.
We built more than 20 depots
"We had to begin to export 100,000 barrels per day. Don't forget that we didn't stop at building refineries; we built more than 20 depots during my time, from Port Harcourt to Ilorin, Makurdi, Suleija, Maiduguri and Kano. More than 3,000 pipelines were laid to connect them. A number of stations were also built to take the trailers off the roads save lives and the infrastructure. It is more economical because each trailer uses fuel.
"We did all that in this country and we didn't borrow any money as far as I know. It's Nigerian money. From each Nigerian crude whether Akwa Ibom, Bonny Light or whatever it is, you can work out how much products it will give you; how much petrol it will give you; how much diesel it will give you if you want to produce diesel.
We could tell how much Nigerian crude cost, the cost of transportation from there to the refinery, the cost of refining, the cost of transportation to the pump stations and maybe five per centages go for overhead."
Nigerians should not be talking of subsidy
In the President-elect's view, Nigerians should not be talking of subsidy but local production. The infrastructure to enable the country refine petrol and move it to all parts of the country were allowed to decay at the expense of the common man and massive importation of petrol into the country.
The question the President-elect wants Nigerians to answer is: What is subsidy and who needs it.
What is subsidy and who needs it?
Wikipedia, an online resource, states that subsidy is a sum of money granted by the government or a public body to assist an industry or business so that the price of a commodity or service may remain low or competitive. In the case of Nigeria it is money being paid to importers of fuel to maintain a uniform price across the country with the hope that Nigerians will benefit from the gesture. But over the years prices of fuel have not been the same across the country. Fuel price in the East, North and Middle belt has always been higher than prices of the same product in Lagos and environs.
A subsidy, therefore, is a form of financial aid or support extended to an economic sector or institution, business or individual generally with the aim of promoting economic and social policy.
Has this goal been met in Nigeria? Although commonly extended from government, the term subsidy can relate to any type of support, for example from NGOs. Subsidies come in various forms including: direct (cash grants, interest-free loans) and indirect (tax breaks, insurance, low-interest loans, depreciation write-offs, rent rebates).
Furthermore, subsidy can be broad or narrow, legal or illegal, ethical or unethical. The most common forms of subsidies are those to the producer or the consumer. Producer/Production subsidies ensure producers are better off by either supplying market price support, direct support, or payments to factors of production.
Consumer/Consumption subsidies commonly reduce the price of goods and services to the consumer as is the case with petrol subsidy in Nigeria.
Whether subsidies are positive or negative is typically a normative judgment. As a form of economic intervention, subsidies are inherently contrary to market demands. A consumption subsidy is one that subsidises the behaviour of consumers.
These types of subsidies are most common in developing countries where governments subsidise such things as food, water, electricity and education on the basis that no matter how impoverished, all should be allowed those most basic requirements.
For example, some governments offer 'lifeline' rates for electricity, that is, the first increment of electricity each month is subsidised. However, subsidies can also be used as tools of political and corporate cronyism.
Detrimental effects of subsidies
The detrimental effects of subsidies that are not properly targeted are diverse in nature and reach. Directly, subsidies are expensive to governments by directing resources away from other legitimate priorities such as environmental conservation, education, health, or infrastructure as is the case with Nigeria where a substantial part of the annual budget is on subsidy.
Indirectly, subsidy tends to benefit the few at the expense of the many, and the rich at the expense of the poor; lead to further polarisation of development; lower global market prices; and undermine investment decisions and reducing the pressure on businesses to become more efficient.
Over time, the latter effect means support becomes enshrined in human behaviour and business decisions to the point where people become reliant on, even addicted to, subsidies, 'locking' them into society.
Consumer attitudes do not change and become out-of-date, off-target and inefficient; furthermore, over time people feel a sense of historical right to them. Despite governments being responsible for the creation and lack of termination of subsidies, it is ironic that perverse subsidies are not tackled more rigorously, particularly as the above highlight their contradiction to the majority of governments' stated policies.
This is why the President-elect is at a sea about fuel subsidy in Nigeria.
Subsidy management, biggest platform for fraud
Senator Abubakar Bukola Saraki (APC Kwara Central) recently declared that fuel subsidy management in Nigeria is the biggest platform for fraud in the country.
He said that the subsidy is in form of huge rackets being used by oil marketers and government officials to rip off the national treasury on yearly basis.
He said the fraud in the scheme was allowed to fester by government through issuance of import licenses to very bogus number of companies totaling 82 now, with many of them not having the required facilities for such very sensitive national economic assignment with attendant collection of $2billion on yearly basis for products largely not supplied.
Saraki, who stated this while fielding questions from journalists in his Abuja residence, on his ambition of becoming the next President of the Senate and other critical national issues, urged the Federal Government to take the bull by the horns by completely removing the fuel subsidy and restoring normalcy to the sector.
He argued that it would be better to remove the fuel subsidy and deliver the sector and the citizenry from the grip of racketeers in the industry, who would never allow things to work well because of their personal aggrandizement.
According to him, subsidy in itself was never a problem to the country but the bad management of the subsidy, which he said had been turned into a huge racket which created the lingering crisis in the oil sector.
He said: "No matter what is happening now, if you go back to look at it, the major issue that dwindled us was the subsidy management. We are talking of about minimum of over $32billion wasted on it over the last five to six years.
" That is the difference between where we are now and that time. It has impacted on our exchange rate, it is going to impact on our infrastructure, there is no money for capital budget.
"We are fighting against entrenched interests whose infectious greed has decimated our people," House of Representatives Speaker Aminu Waziri Tambuwal had said.
Alleged wrongdoings
A 205-page parliamentary investigation on fuel subsidy uncovered a long list of alleged wrongdoings involving oil retailers, NNPC and and oil companies operating in the country.
According to the report, a total of 15 fuel importers collected more than $300m two years ago without importing any fuel, while more than 100 oil marketers collected the same amount of money on several occasions. The report also says that officials in the government of President Goodluck Jonathan were among those who benefited from the subsidy fund.
Many of the people named in the document have denied any involvement in fraud, with some taking out full-page adverts proclaiming their innocence in local newspapers.
Despite being a major oil producer, Nigeria has not invested in the infrastructure needed to produce refined fuel, so has to import much of its petrol.
The annual $8bn subsidy means prices are lower than in neighbouring countries – and many Nigerians see cheap fuel as the only benefit they get from their country's oil wealth, much of which is pocketed by corrupt officials.