By Kehinde Ajose
AS part of the African Union Year of Women Empowerment, the ONE Campaign on Thursday, April 16, 2015 in Abuja launched Poverty is Sexist, a campaign and online petition calling on world leaders to put girls and women centre-stage in 2015, a year when new development goals will be set.  High profile Nigerians, including Executive Director of the National Centre for Women Development, Lady Onyeka Onwenu; actresses Omotola Jalade-Ekeinde, and Genevieve Nnaji; musicians Omawumi and D'banj, have added their names to ONE's call for action.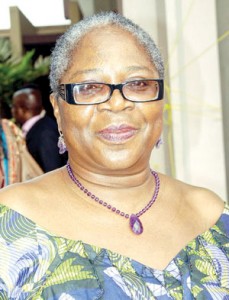 The campaign was launched at a policy forum that was attended by representatives of the National Association of Nigerian Traders (NANTS), Equity Advocates and Save the Children Nigeria among others.A recently released report by ONE entitled, "Poverty is Sexist: Why Girls and Women Must Be At The Heart of The Fight to End Extreme Poverty" shows how unlocking women's economic potential could improve the lives of everyone in society.
Poverty and genderinequality
The report shows that poverty and gender inequality go hand in hand, whether you look at health, education or work. Not only are girls and women worse off than those in wealthier countries, but the gender gap in these areas between males and females is greatest in the poorest countries.
This double disadvantage means that: a woman in Sierra Leone is 183 times more likely to die in childbirth than a woman in Switzerland, working women in the least developed countries are three times more likely to be in vulnerable employment than women elsewhere and in the poorest countries, and literacy levels are a third lower for women than men.
During the event, Lady Onyeka Onwenu joined Arunma Oteh to sign the online petition, which is online. Onwenu  recognized that progress is being made in women empowerment, but there is a lot left to be done.  Other Issues raised at the policy forum include the need for a comprehensive national policy on political inclusion for women, the need for monitoring mechanisms for funds targeting women development, and increased collaboration and synergy among women's empowerment groups and champions.
A policy document will be compiled from   the forum, which will contribute to a continental narrative being developed by the ONE campaign to lobby leaders for action, in the lead up to the AU Heads of State Summit in June and the UN Summit in September.
Subscribe for latest Videos