By Emman Ovuakporie
ABUJA – OUTGOING Speaker of the House of Representatives, Aminu Tambuwal has said his absence after he is sworn in as the Governor of Sokoto state will not lead to any form of constitutional crisis.
Tambuwal who spoke at an interactive session with members of the House of Representatives Press Corps said, "we never envisaged this kind of development but thank God there is a provision in our House Rules which stipulates that we can vacate via a motion making it possible for my deputy to preside till the House finally disengages".
"We'll do that to avert any form of shut down  due to my absence immediately I'm sworn in  on May 29th".
Contrary to insinuations that the outgoing Speaker of the House of Representatives, Aminu  Tambuwal is scheming to block the election of a new Speaker to replace him and preside over the House for the remaining days in the life of the 7th Assembly, Tambuwal  denied existence of such a scheme.
He said: "At the closed session we had, we discussed about the situation of who presides over the House as I bow out".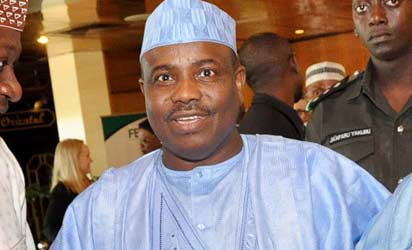 "Because by Friday, I will cease to be a member of this House. And this is the first time such a thing is happening that a seating Speaker will take another oath of office even before his tenure as Speaker ends, and the constitution did not envisage this.
"Incidentally our rules provide that in the event that the Speaker ceases to be either by reasons of natural causes or a situation like mine, a new Speaker will be elected at the next seating.
"That the Clerk will notify the House of the vacuum and election will be held to bring about another Speaker.
"However, as we were brainstorming, a member came up with; not necessary a doctrine of necessity but an ingenious way of solving the situation.