Famously known as an entertainer and daughter of Fela, the Afrobeat king, Yeni is however showcasing her other interesting side on the show "Your View".
As an entertainer, she brings to bear her professional and, sometimes, witty disposition to the topic of the day.
You are famous as a dancer and daughter of music legend, Fela Anikulapo-Kuti. At what point did you get into presenting? How did you get into the TVC talk show?
I had been discussing with another TV station to do something with my friend, Carol King, when Lukman Musa, the producer of the show called. It was a most welcomed phone call. I had wanted to break into television. I had a couple of meetings with Lukman and Morayo and that was it.
How were you able to settle in with the camera? Was it difficult? What gave you the confidence to go on?
I had been on stage for many years so the transition, though difficult, was not too bad. I am much more confident now than when we first started. I was a basket of nerves.
How are the topics for each day decided?
The producer decides the topics. She brain-storms with us sometimes. If we hear or read anything interesting, we send it off to her also. We work as a team; together we stand.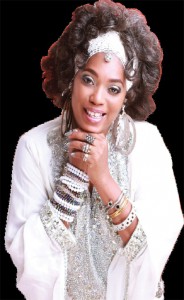 Are you on a long-term involvement with the talk show?
Yes, I am. I have been on the show since its inception two years ago.
Does this new assignment put some sort of pressure on the way you should dress and behave in public?
Not really. My style has not changed. I also have been in the public eye for a number of years so, I guess I have learnt how to behave in public over the years.(Laughs)
For the sake of your younger fans who would be reading this, tell us a bit about your educational background and about life as Fela's daughter.
I studied Journalism at the Nigerian Institute of Journalism and went to a secretarial college.
On the question about being Fela's daughter, I have always been that; never anything else.
What is fashion like for you? How would you describe your dress sense?
For me, I dress how I feel. I don't follow fashion trends unless I believe they suit me. I love to match my colours to the fullest.
How do you take time off to relax?
I play computer games or I read, dance or gist with my friends. I love to stay cuddled up with my partner, not going anywhere.
What is the best part of being on the talk show?
I have learnt so much about current affairs and the Nigerian political system. I love being on the show.
If there is anything you would change about you, what would it be?
Nothing. I am a truly satisfied person. I don't believe in regrets. If you cannot change anything, learn from it and move on. Life is a learning process
There are usually conflicting views on the set. Does that affect your relationship with the others outside the studios?
No. We argue on set. Once in a while, it carries on after the show…
What is the best lesson you have learnt in life?
To be as good as you possibly can to people. Treat people as you would like to be treated.
Read Tope Mark-Odigie: ' I believe every woman is beautiful '