By Ben Agande & Levinus Nwabughiogu
ABUJA—President Goodluck Jonathan has commiserated with the family of Nigeria's first President, Dr. Nnamdi Azikiwe, over the passing away of Chief Chukwuma Bamidele Azikiwe.
The special Adviser to the President on Media and Publicity, Reuben Abati in a statement, said the President also extended his sincere condolences to the government and people of Anambra State, and the immediate family of the deceased.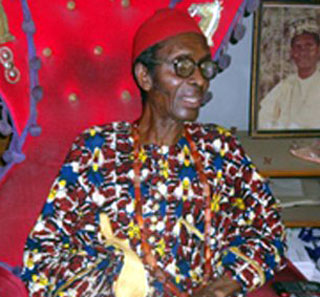 "President Jonathan believes that the late Azikiwe, who was also the Owelle Onitsha, lived a fulfilled life by sustaining the humanitarian and leadership legacies of his father as a mobiliser, leader, philanthropist and a highly respected voice in his community.
Similarly, the President-elect, General Muhammadu Buhari, yesterday, described the death of Ambassador Chukwuma Bamidele Azikiwe, first son of late Dr. Nnamdi Azikiwe as a sad development.
In a condolence message in Abuja, Buhari said that the younger Azikiwe lived a humane life that possessed virtues of his father which qualified him for his traditional title, "Owelle of Onitsha".
According Buhari, a gentleman bred in the best African values and traditions had departed the world to the great beyond.
"With the demise of Chukwuma Azikiwe, a gentleman has left a turbulent world", he said.
Ambassador Azikiwe was a thorough –bred Nigerian citizen who chose a private life after a distinguished diplomatic career in Nigeria's Foreign Service. There is no doubt that it was Ambassador Azikiwe's humane and refined qualities that made it possible for him to step into the big traditional shoes of his great father – Dr Nnamdi Azikiwe as the Owelle of Onitsha."
The President-elect said with the demise of the Owelle, he had lost a friend who cared for him and often found the time to visit at home in Kaduna.
While condoling with the Azikiwe Family, he urged the Obi of Onitsha, Igwe Nna'meka Ugochukwu Achebe and the entire people of Onitsha Royal Kingdom to take heart and bear the loss with fortitude.