Music lovers and enthusiasts in Awka, Anambra state last Saturday must have wished for the day to last more than 24 hours when the Star Music Trek rocked their city. The annual concert tour sponsored by Star, the premium lager beer from the stable of Nigerian Breweries had brought Timaya, MI, Yemi Alade, Naeto C, Raw, 2Face Idibia and many others to the bustling Eastern city and even after the last performer on the night had left the stage, the mammoth crowd at the De Geogold Hotel stayed hoping for an encore performance by 2Face.
Instead, DJ Snoop Damaja took it to another level with his trademark head-bopping tunes from the wheels of steel. Awka marked the end of the first phase of the Star Music Trek, which also had eventful stopovers in Abakaliki and Calabar. The next phase of the Trek will kick off in August when Sapele, Ibadan, Lagos, Makurdi and Auchi will have the time of their life with their favourite superstars.
MI gets a fan crying inconsolably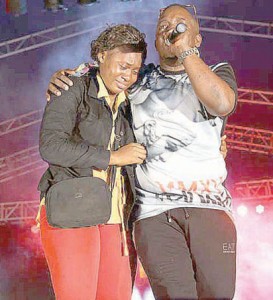 MI made a good impression on the crowd when he gave fast rap freestyle.  He received a resounding cheers and screams. Known for his tradition of proposing to girls on stage, he was however beaten to his game when Do2dtun brought on stage a young lady Ngozi who couldn't dry her tears for MI. Her profound admiration for the artiste was too deep and she just could not stop spilling tears for MI ever since he got on stage.
Touched by this loving gesture, he serenaded the lady with his hit song "One Naira". Before leaving the stage, he prayed for his fans, another tradition of the music concert. In previous editions, artistes on the music tour made it a habit to rain prayers on their artistes. Naeto C and MI continued in this fashion, so also would Timaya and 2face in their performances.
Timaya starts prayer frenzy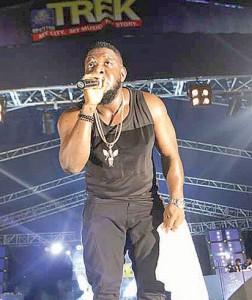 The Egberi Papa 1 of Bayelsa, Timaya received a resounding cheer when he came on stage. In his signature, he kicked off his shoes and walked into the crowd bare-footed. He kicked off with "Bow Down" and moved on to other songs like "Ukwu", "My Body" among others. But the crowd yearned for him to perform his newest rave "Sanko".
For this particular performance, he sang a medley of old ghetto songs like "New Dance" by Marvellous Benji, Africa China "Crisis" among others. He also seized the opportunity to advocate for good leadership from the in-coming administration.
Timaya suddenly stopped the music and asked the crowd to clap. Instead of clapping, the crowd started to sing a gospel song. What followed was a torrent of prayers showered by Timaya who suddenly became the choirmaster in this gospel chorus.
Mr Raw's Obodo set the mood on right track
By the time Raw got on stage to perform, the audience was already in the mood to have a very good time. His theatrics on stage endeared him more to the people like a tidal wave. For instance, his rendition of his popular hit 'Obodo' was accompanied by a traditional ensemble comprising of a chief priest and two female servants who also doubled as dancers.
He also got the crowd going wild when he performed one of his hit songs "Gyration". Apparently, this particular song is a crowd favourite in Awka as they could not contain themselves. As if on cue, they raised their hands in unison, gyrating to the rhythm of the song and when he beckoned them to clap; they didn't hesitate to indulge him.
Other songs performed by the Abia state rapper include, "I'm in love with an angel", "Spiritual Konji" and his latest hit "Blow my trumpet" with Fanzy Papaya.  Raw who is a staple on the annual Trek made his first appearance on this year's edition at  AwkaRocks!
2Face serenades female fan with Let someone love you
There are no words to capture the ecstatic state of the crowd when 2face came on stage. They screamed, they cried, they stretched forth their hands just to touch a hem of his cloth. Cheering the crowd, he kicked off with a fast-paced rendition of "Nothing dey happen", then moved to "For Instance".
Unable to restrain himself anymore, an overexcited fan meandered his way to the stage and hugged 2face fiercely. 2face's performance was a seamless transition as he took the crowd back and forth with his songs, infusing reggae, ballads and high tempos when necessary. At a point, he elicited a nostalgic ambience, particularly when he serenaded a female fan, MaryJane with his love ballads like "Let somebody Love You", "African Queen", "If Love is a Crime" among others.
His gestures during these performances excited the crowd that they kept begging for more. Still down the memory lane, he played some old tunes and asked the crowd if they could recollect songs like "Eddie Quansa' the popular theme song of the 80s TV drama "New Masquerade", 9ice "Konga Aso" and his featured song with P-Square "Possibility".
Yemi Alade fools the crowd with look-alike act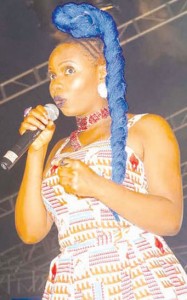 Being her debut at the Star Music Trek, Yemi Alade stole the night away with her performance. First, a stunt double waltzed on stage with two dancers. Immediately, they started dancing to 'Baby Hello' by Wande Coal which featured her. The crowd almost believed that the lead dancer was Yemi Alade for she was stunningly, a spitting image of the feisty singer.
Not until Yemi Alade regally walked into the stage to interrupt their performance, did the crowd realise that the lady in the singer's signature African print hooded jacket was not the singer. They screamed in surprise and excitement at the singer's stage trick.
Performing with a live band gave her opportunity to freestyle. For instance, during her performance of "Taking over you", she did a quick remix by adding an Ibo lingo to it, which earned her more admiration from the crowd. In another performance "Kissing" from her 2014 album "King of Queens", she did a French snippet for her fans.
When at last she performed 'Johnny', the crowd went agog. They happily sang along as if they have been waiting for this performance all their lives.