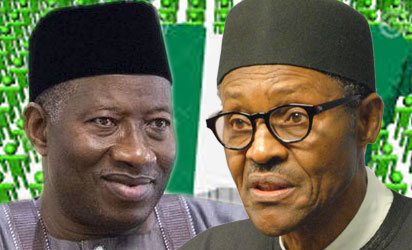 PRESIDENT Goodluck Jonathan has called on the President-elect, Maj-Gen Muhammudu Buhari (retd) not to jettison the recommendations of the 2014 National Conference.
The President said this, Tuesday, at the Presidential Villa, shortly after being decorated with the "Peace-Loving Global Citizen" award by the Universal Peace Forum led by lawyer, Mike Ozehkome.
While he appealed to General Buhari to appreciate the good contributions made by Nigerians towards nation-building irrespective of political party or creed, he was optimistic that the incoming administration would take the time to appreciate the contributions of Nigerians in the efforts to build a greater nation.
The President, who enjoined Nigerians to remain committed to the unity of the nation, said everyone must be ready to make sacrifices.
His words: "We have our challenges, of course. We had a national conference; the idea of the conference is to look at these weak cleavages we have in this country. And we just finished that conference and we are thinking about how to implement it so that Nigeria will become stronger and united nation. I cannot be a party to the disintegration of the country."
In addition, he said: "I'm quite pleased with what has happened. We have a country; our country will be more united. I believe and do pray that the incoming government should appreciate the contributions of everybody and see how we run Nigeria as a country that belongs to everybody, for all citizens; irrespective of political persuasion or creed; so that is what I stand for."
The president, however, disclosed that he would not be party to the disintegration of Nigeria, noting that it was one of the reasons he conceded defeat after the March 28 presidential polls.
According to him: "I took that decision (to concede to Buhari) because I told those around me that no matter the ambition, the nation comes first."
Why we gave Jonathan award— Ozekhome
In his remarks, rights activist, Mr. Ozekhome, who commended the President's gesture during the presidential polls, noted that his gesture had positively put Nigeria on the global map.
Ozekhome said: "Given your uncommon, almost unnatural gesture of conceding victory to your opponent, we want you to go back to Otuoke a very proud man.
"You are the greatest democrat we have ever had in this country. History will be fair to you."
He, however, warned the outgoing President that he would have little rest after office since he would be invited to several world fora to lend his experience and touch to democracy.
Describing the President as a global peace ambassador, Mr. Ozekhome announced the nomination of the President to the board of the UPF in place of former head of state, Ernest Shonekan, who stepped down recently.