By Luka Binniyat
KADUNA—The President-elect, Gen. Muhammadu Buhari, yesterday, expressed disappointment with the way the military handled the war against insurgency in the North East. He wondered why the military could not secure 14 out of the 774 local government councils in the country without the assistance of "South African mercenaries."
According to Buhari, Nigerian soldiers needed not wait for South Africans before confronting Boko Haram insurgents and winning the war in parts of the North East.
He spoke in Kaduna while hosting the National Executive Council of the Arewa Consultative Forum, ACF.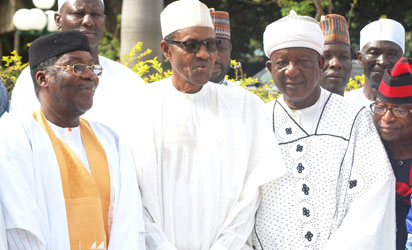 His words: "The military has never been so incapacitated like now. It is a shame that the Military cannot secure 14 out of the 774 local governments in the country.
"What is more worrisome is the fact that Nigeria's military has to rely on South African mercenaries before it could gain recent success in the war against Boko Haram. This situation is shameful and unacceptable.
"My administration will concentrate on three major areas on assumption of office, that is insecurity, the economy/unemployment and corruption. We will ensure we nip insecurity in the bud."
Speaking on governance, Buhari said, his administration would make sure that every Nigerian lived within his means or earnings, adding that "a situation where people live above their earnings will not be tolerated."
Earlier in his address, ACF chairman and retired Inspector-General of Police, Ibrahim Coomassie had told Buhari that Nigerians voted for him because they believed in his integrity, knack for transparency, accountability, honesty and commitment to security of lives and property.
Coomassie further said that Nigeria had never experienced the level of decay, collapse of moral values, the high level of corruption, crime, unemployment and impoverishment of the citizenry like in the last six years.
According to Coomassie, "security has been the major concern especially in the North-East region which has been devastated by the insurgency caused by the Boko Haram. Energy which is the source of power and main driver of the economy, requires serious and urgent attention.''
He further told Buhari that Nigerians were eagerly waiting for him to also free them from the shackles of poverty, ignorance, corruption and insurgency and urged the President-elect to curb the powers of the Secretary to the Government of the Federation, SGF whom he said was more powerful than ministers.
He said: "The current situation whereby the SGF operates above ministers offends the laid down principles of accountability in governance."
Subscribe for latest Videos