By Florence Amagiya
Ace Broadcaster, Bisi Olatilo, Chairman of BISCON Communications, has been in the spotlight for over 36 years. He is the brain behind successful coverage of celebrities in Nigeria and in the Diaspora; popular first on AIT – Bisi Olatilo Show. Olatilo, after two-decade experience in the industry, launched BISCON Communications which has won the heart of many.
Sixteen years after, with several success stories, he added other chain of services which include a modern printing press, magazine known as BOS International, functioning online reportage including a television studio waiting for license. In this edition, we serve you another interesting story of a veteran broadcaster, loving husband and a caring father – Bisi Olatilo. Enjoy it.
The Genesis
Growing up in the broadcasting business, I spent most of my time working with Radio Nigeria. While working as a broadcaster, l anchored most of the prominent shows with high calibre personalities in the society. My fan base spread wide so much that I gained a lot of admirers and was able to relate with all strata. My added advantage is the fact that l can speak the 3 major languages in Nigeria. With this tool added to my MC talent; I knew then I could have my own programme. A friend of mine along the line encouraged me to start my own show.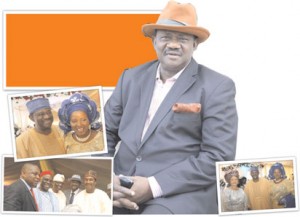 But when I started initially, it was not easy finding a slot to air the programme. Those who owned television stations pay dues for their platform so it took us a while before we were able to get sponsors. We got the chance to meet and talk with 'African Independent Television' (AIT) to give us a chance to showcase our product to the world.
Raymond Dokpesi, a very nice individual has one motto; ''Do not look at the volume, concentrate on the value"; So we went on and eventually established ourselves. Going full blast at some point, we became owners of our own platform, we had to pay monthly and we have remained with AIT ever since.
RADIO NIGERIA
I worked with Radio Nigeria for almost twenty years when the Radio was still very prominent in the country. I read the network news at 7:00 am, 4:00pm and 10:00pm at night, presenting numerous programmes. One of the heights of my career was during the release of Nelson Mandela from Prison in 1989 during Gen. Babaginda's Regime. So there was a big carnival and welcome party for Nelson even in Nigeria. A drama was played and I acted the role of a town crier who could speak Yoruba, Igbo and Hausa.
Of all crowds I have entertained in my life, that was the largest. Again in 1988, Radio Nigeria started ''Radio Nigeria 3", an indigenous service programme that featured major ethnic speaking groups in Nigeria; and because I speak such languages, I became the natural choice to launch the show. Thankfully I discovered the likes of Ali Baba (the comedian). I met him at an event where he was invited to perform.
He was a young chap who sounded fresh and intelligent. We got to meet each other and I ended up allocating the first five minutes for his jokes on my popular radio show titled ''Another day don break". After then, we birthed another programme on TV titled ''The Night Train" and I was the anchor. I was running both radio and TV; this was the particular fact that endeared me to the general public.
CHILDHOOD DREAM
Broadcasting had always been my childhood dream and I worked towards it. Right from my school days, I always loved the radio because the television was not popular then. The Radio vision box was in vogue. While growing up, I remembered a few radio broadcasters whom were exceptional with their radio shows and I never missed their time slot. I developed passion for broadcasting and it stayed with me all through my secondary school days.
I became a member of the literary society, then my principal gave me free hand to source for news items which I wrote down and read to the assembly. Each time there was a football match between my school and another, I ran the commentary. I was able to put everything into practice at ''Radio OYO" in 1975, the same year I officially began my career. I had a particular colleague named Tonia Igunbor. We paired together on a programme titled ''How una dey." It was a request show, very popular in Ibadan, Oyo state. I used to be called ''Bisi Connection".
BROADCASTING
The joy that broadcasting gives me cannot be quantified. People tend to respect the fact that you are a talented person and from the manner in which I had built myself over the years, people whom others cannot approach tend to approach me by themselves.
CHALLENGES
Honestly speaking, all the ones I considered contemporaries and with whom we started never saw anything as a challenge but rather as stepping stones because we had passion for the job. We showed up at the Broadcasting House on daily basis whether we were on shift or not. These days, it is really painful to know that people only love money and not what they do. They find it difficult to come to terms with their jobs, it is no more about what you can do but your attitude towards it. The passion should drive you.
BISCON COMMUNICATIONS
We've been into magazine production for three years now. We broadcast 24hours on HITV with our transponder before they went bankrupt and the station had to pack up. It would be a wise decision to throw everyone back into the unemployment phase, so we decided to turn out the contents we had acquired so far into print and today, the B.O.S magazine is alive and kicking. Aside from covering an event, we put it into print.
HOMEFRONT
I am happily married to my lovely wife of 34 years. When we started, we had to elope for three years because we practiced different religion. We eventually returned and the both parents gave us their blessings. Today, we are blessed with 5 children; 3 girls and 2 boys. Two of the ladies are happily married with children, so I am also a proud grandfather. My first son is the owner of ''Voodoo Lounge", Elegushi. One of my daughters runs a fashion organization; the other is a civil engineer.
Plans for the future
We have already in the pipeline, plans for our own television. All we need is a license for it.
Give Back
We have empowered over 50 staff members and still counting.