By Prisca Sam-Duru
The mother is just one of the two biological players in the procreation arena but is indisputably the closer parent to every child. This bond which starts at birth, through weaning and beyond is so strong that it exists well into the child's adulthood. This makes the term, mother, carry a touchy and emotional tug anytime it is mentioned. It has come to be synonymous with affection, care and love. Little wonder the world had designated March 15 every year to the celebration of mothers and what they have come to represent.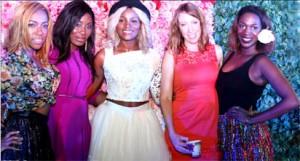 In Nigeria, like in many other countries, although many brands celebrated this year's Mothers' Day with heartfelt messages of love, good wishes and appreciation to that special woman in everyone's life, one brand stood out in its own celebration. Baileys ran a Mothers' Day campaign, themed "I am…because of my mother" which gave Nigerians a platform to highlight aspects of their lives that were brought about by the industry, tenacity, love and care of their mothers.
The highpoints of the campaign were the Mother's Day Tea Parties in Abuja and Lagos and the ladies Night Out in Benin during the weekend of the Mothers' Day. The tea parties, a very classy special event in the UK and debuted in Nigeria, were avenues for invitees to have quality timeout with their mothers, appreciating them for what they did in their lives. The parties kicked off with an enchanting evening of fun in Abuja on Friday, March 13, 2015 with R&B Singer, Seyi Shay giving a wonderful rendition of her hit song "Irawo" in tribute to her late mother and every other mother.
The celebration train then moved to the Metro Event centre in Benin City where guests were treated to a night of music, comedy and merriment. Resident comedian and compere, MC Casino, ignited the audience with his rib cracking jokes and the multiple awards winning artiste, Waje, crowned the event with her superb performance. The highlight of the night was a 'toast to mothers'.
The grand finale of the Mothers' Day parties, an exquisite Tea party, took place at the Tree Garden of the Federal Palace Hotel in Lagos with the fast rising artist, Korede Bello of Mavin crew, and Seyi Shay warming the hearts of guests. The event was hosted by the Beat FM Baileys Boutique team of Stephanie Coker and Fade Ogunro, and had in attendance high fliers in the entertainment and fashion industries such as Banke Meshida, Sasha P, Yvonne 'vixen' Ekwere, Kaylah, Onobello and many others some of who attended with their elegantly dressed mothers.
Guests at the tea party were given the opportunity to pay tributes to their mothers and there were trivia sections where daughters were quizzed to know how much they can tell of their mothers. Facebook competition winner, Gregory Ebalunegbefo Ojefua, who attended the Lagos Tea party with his mother, affirmed that he had a great time at the event, appreciating the opportunity to treat his mother to a great time, "Today was so much fun.
It feels good to make time out to say 'Thank you' to my mum in this special way and spend some time with her. She is special to me, and i feel so fulfilled because my mom is happy". For Baileys Nigeria, this year's Mothers' Day activities started long before March 15, 2015 with a series of captivating activities to mark the Day. It started with the "I am… because of my mother" video activity which enlisted celebrities and well known public figures to show their appreciation to their moms in an emotional way and posting the videos of those wonderful moments on the social media space.
They were also to tell the 'world' who they have become by virtue of their mother's influence in their lives. A-list makeup artist and CEO of BMPRO, Banke Meshida and OAP Fade Ogunro kicked off this phase of the campaign and other Influencers like Stephanie Coker, Hauwa Mukan, Toke Makinwa, Temidayo Abudu and Feyi Mbanugo quickly took up the gauntlet and the activity trended in the social media space.