By Lawani Mikairu    & Daniel Eteghe
LAGOS— An official of the Federal Airports Authority of Nigeria, FAAN, was yesterday beaten unconscious by two Nigerian Air Force officers in charge of traffic control at the departure section of the international terminal wing of Murtala Muhammed Airport, Lagos.
The FAAN staff, Mohammed Shuaibu, who works at the protocol and passages of the agency, had told his friend to pick him at the airport but when he arrived, the airmen attempted to remove the number plates of his car.
Shuaibu was said to have begged the Air Force men not to take away the number plates.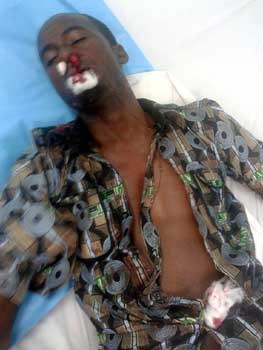 According to eyewitnesses, Shuaibu, dressed in FAAN staff uniform, introduced himself and showed his identity card, but an argument reportedly ensued and the Air Force men descended on him.
He was beaten by the airmen until he collapsed, with blood gushing out of his nostrils.
An official of FAAN told reporters that Shuaibu was first taken to the FAAN clinic at the airport, but was later taken to the airport hospital.
At press time, he was yet to regain consciousness.
An official of FAAN told Vanguard: "Shuaibu begged them and introduced himself as a FAAN staff, but they seemed not to care. By the time other people arrived the scene, Shuaibu had collapsed and blood was flowing from different parts of his body.
"We first moved him to FAAN clinic, where they said his heart beat was slowing down and he was finding it difficult to breathe. So we have to rush him to the airport hospital."
It will be recalled that about three months ago, a trolley operator at the General Aviation Terminal, GAT, of the Lagos airport died after sustaining grievous injuries from attacks by a naval rating.