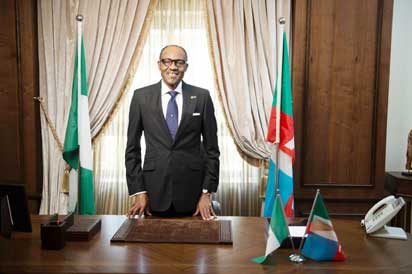 •Buhari: Decked out
By Adisa Adeleye
The results of the 2015 elections are now known and believed to be accepted by all, without the familiar 'Nigerian factors' of superficially crying over sour milk. A commendable standard has been set by the present Nigerian political leaders that whether win or lose , the post election period would be peaceful, leaving the doubtful aspects of the various results to the determination of the country's respected judicial system.
It is generally acknowledged that the bane of past elections – rigging- has been frontally attacked through the use of INEC's Permanent Voters' Card (PVC) and its accompanying agent, the Smart Card Reader. By that innovation, genuine voters could be separated from cattle, ghosts and fishes, of the old despicable voting mechanism.
Though the PVCs and the card readers could not claim hundred per cent success in many polling units, they could be well rated (B+) in their first difficult and dangerous assignments. In fact, not all registered voters were able to collect their PVCs (and thereby, disenfranchised illegally), and some of the card readers were observed to be stubborn and unwilling to work in many areas, leading to the use of old unreliable manual system, which in some areas, encouraged rigging.
Since there would always be bye-elections, (National, State and Local Council elections), the INEC officials should, certainly, have learnt useful lessons from their recent experience.
The other form of electoral irregularity reported were tampering with the Result Sheet which could be wrongly filled or falsely altered in favour of a particular candidate, and also, the stealing of ballot boxes. The expectation of many Nigerians is that if there is good training of INEC officials and the change of attitude of many voters that only votes should determine results of governance, then many enlightened citizens would see politics as a decent game, and voting, a rewarding exercise. At the moment, judging by the last political exercise, Nigerians should congratulate themselves for moving towards real democracy of choosing the leaders they wanted.
As recorded in my previous contributions, the political contest had been lost and won.   The ruling Peoples' Democratic Party (PDP) had been soundly beaten in the national elections and decidedly defeated in the States that the party is still in control. The successful party (a combination of conservative and pseudo-liberal politicians) had miraculously snatched power without observable differences in political ideology and economic philosophy from the defeated party.   Some observers see the APC and PDP as the two sides of the same coin – their leaders appear to be budding capitalists with insatiable taste for wealth and power.
The APC in its own part said: we could do better with the oil money, and the voters convincingly agreed. The PDP on the other hand pleaded: give us more time to improve, and the voters said, no, to a political policy which is anchored on political division (winner-takes-all mentality) and whose economic order is structured on WAIT-GO-STOP, during the last sixteen years. It has been a tale of economic transformation into destitution and poverty, in a supposedly oil rich nation.
There is no doubt that on May 29, 2015, there will be a change – a new APC government under the present elected President, General Muhammadu Buhari (retd), but a new government under the existing political and economic systems in a politically and economically divided nation – a country where poverty is endemic, and ethnicity, virtually enthroned.
What should be expected from the APC and its seemingly enlightened leadership?   Certainly, it should not be a government of REVENGE, but one of progressive enlightenment. It should be a situation where ministers are chosen for their latent ability to deliver and not for reward for help in winning elections, e.g. "BOW and GO" syndrome of the present era in screening ministerial appointments. The outgoing cabinet, according to some analysts, portrays the trait of doing very little, as much as possible, in a condition of mediocrity.
There is no doubt that the new government will be confronted with the vexatious question of the "conditions of the Nigerian Question". Put simply, Why is Nigeria what it is today with blessings of natural material and human resources? And Nigerians do have the right to ask many awkward questions.
As it has been noted, "a man who is ignorant of the society in which he lives, who knows nothing of its place in the world, and who has no thoughts about his place in it, is not a free man, even though he has a vote" – the PVC.
Many of the country's problems are based on deficient political structure – a 36-State structure without consideration for economic viability or cultural similarity. Except in few cases, some states harbour oppressive majorities and restive but rebellious minorities.
The last National Conference made some useful suggestions which President Jonathan, in his election campaigns, promised to implement. Not many voters believed him since there was no government White 'paper' on constitutional reforms placed before the Parliament.
The National Assembly's latest attempt to amend the 1999 Constitution was not approved by the President.
Unfortunately, the APC did not actively support the 2014 National Conference but its manifestoes contain some thoughts on True Federalism. How that could be achieved without Oil Money has not been satisfactorily explained in a situation where every State awaits anxiously for the monthly distribution of Oil Money. And Oil is not a commodity found in every state of the country.
The new government, if it is to be taken seriously, will have to tackle Power Supply through many options – Thermal, hydro, solar and coals (all which we have in abundance). Many analysts think that the privatisation policy of power supply in the country has been done in hurry.
Urgent review
It needs an urgent review to save us from imminent darkness. It is a matter of applying common-sense economics to involve the States (or political zones) in funding electricity generation.
However, the general and immediate problem of the country is that of mass unemployment, which to me, is the root cause of insecurity and insurrection. It is believed that where strong hands which are capable of producing goods and services, are kept idle, Satan in all its majesty, will create suitable jobs for them.
The reasonable option is total infrastructural developments through massive injection of public funds into the national economy. This is where oil revenue is needed as an engine of growth and not something to be splashed on conspicuous consumption (federal and many state governments spend more than 70% of the oil revenue, on their recurrent expenditures). Unfortunately, the present national budget of N4.43 trillion does not indicate positive thinking between capital and recurrent postures.