By Suzan Edeh
Bauchi—The United Nations High Commission for Refugees, UNHCR, has said that over five million persons were traumatized in the North East region due to the activities of insurgents.
The UNHCR, Representative for West Africa, Liz Ahua gave the figure yesterday during an interview with officials of Bauchi State Emergency Management Agency, SEMA.
She said that UNHCR was concerned about the plight of Internally Displaced Persons, IDPs, and refugees in the neighbouring countries.
Ahua said UNHCR was experiencing challenges in handling such cases because it was difficult to reach the affected  victims.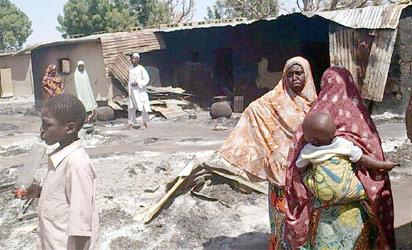 "Nigeria is currently having over 3,000 refugees in Cameroon Republic who are willing to return to the country but are afraid of the uncertainties.
"UNHCR started working in Nigeria since 1963, and therefore, would not afford to handle such issues with laxity," she said.
Meanwhile, a Pastor and resident of Sabon Kaura in Bauchi Local Government of Bauchi State,  Joshua Unaliya yesterday said that he was currently hosting over 300 Internally Displaced Persons, IDPs.
Unaliya made this known while receiving the UNHCR representative, Ms  Ahua, who visited the IDPs in his house.
He said that he had in December 2014, received 107 IDPs from states affected by insurgency adding that 64 of them later left for their towns when the situation became calm, pointing out that some of them returned some few days later when there was a renewed violence in the North East geopolitical zone.
According to him, 200 of the IDPs were in his church which was some distance away from the house.
Responding, Ahua said that some of  the IDPs were from  vulnerable states within the North East region affected by the insurgency.