By Victor Gotevbe
A close interaction with Kunle as he is fondly called by many will leave you with a lasting and pleasant impression because of his humble disposition and creative mind.
He combines creative flair and technical skills to design information and communication technology (ICT) base products and services that entertain, educate and inform the users. Kunle is a journalist, creative director, photographer, traveller, and activist. At 30, he has successfully managed Kstunt Media, his creative agency based in South Africa, and this has earned him some international awards.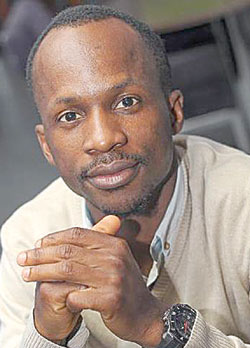 He tells us about his upbringing, works and how they impact young people and his ongoing efforts to quell the xenophobic attacks on foreigners by South Africans.
Early life and growing up
I grew up in Lagos and I had a great childhood. My dad's discipline and my mom's insistence on being an upstanding member of the society influenced my personality today. Their strong Christian beliefs also impacted my life positively.
The decision of my aunt to send me to Loyola College Ibadan, had the biggest impact on my life. It's one of the best colleges in Ibadan popularly known as " The best in Every Way" .
I was one of the best students and matriculated in 2002 with 'A' grades. I had wanted to go to University of Port Harcourt to study Petroleum Engineering, but my parents were worried about the distance and cult activities over there.
My parents suggested I joined my elder brother in Olabisi Onabanjo University for easy monitoring and access because it is not far from Lagos.
I was reading Geology and I got bored, and wanted something completely different. I dropped out and moved to South Africa to continue my studies at the University of South Africa.
Business and thriving strategies in South Africa
KSTUNT Media is my company. It is a strategically driven creative agency whose core focus is to assist the growth of our clients through powerful, insightful and innovative communication solutions.
South Africa is always open for business but highly competitive with regulations guiding the business practices. My experience and networks have really helped me to stay in business in South Africa because Entrepreneurship is not an easy thing to do but we are winning day by day. The infrastructure and legal framework for business has impacted my stability and growth in South Africa.
Five years from now…
Although the future is unpredictable, but I would like to see myself as a family man and winning the Grands Prix.
Efforts in the decry of Xenophobia in South Africa
We run a website called Nigerians in South Africa (www.nigeriansinsouthafrica.com). It is a platform to inform Nigerians in Nigeria and diaspora about the affairs of Nigerians living in South Africa. We are also working on re-branding the bad image of Nigerians living in South Africa by writing about the positive impact of Nigerians in South Africa.
We have attended vigils, marches and meetings with stakeholders in South Africa regarding the Xenophobic attacks. We have provided facts and timeline messages for the Nigerians in Nigeria and diaspora.
We have been interviewed by media houses in Nigeria and South Africa because they know we present verified information to the public. We work around the codes and conducts of media in South Africa.
Impact on young people
Our works are impacting young people positively in so many ways. We are in the information age and without it we cannot do much. We have helped more than 50 Nigerians living in South Africa to have access to job opportunities, trade platforms and entrepreneurship training.
Important words for young people
There are a few things I would like to mention that I would other young people to adhere to:   Take personal risks. Do it for love not money, seek inspiration, keep learning, be determined and fearless. Be confident, but lose the ego, and give back as much as you take. Invest in relationships and always look on the bright side of life.
Subscribe for latest Videos