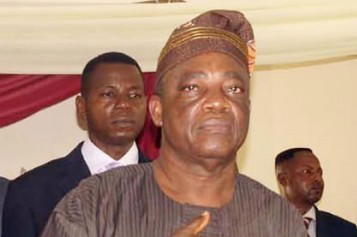 Olanusi
By Olasukanmi Akoni
LAGOS—The All Progressives Congress, yesterday, rejected the impeachment of Ondo State Deputy Governor, Alhaji Ali Olanusi, stressing that the process of his removal violated provisions of the impeachment clause in the 1999 Constitution.
The party added that the decision of the State House of Assembly was a contempt of court that ordered all parties to maintain status quo in a suit the deputy governor filed before he travelled out to challenge the plan to impeach him.
The party's National Vice Chairman in charge of South-west, Chief Pius Akinyelure faulted Olanusi's impeachment in a statement he issued in Lagos, noting that the decision of the state assembly would not stand.
Akinyelure described the impeachment process as a mockery of constitutional order, which he said, Governor of Ondo State, Olusegun Mimiko and all members of the State House of Assembly were sworn in to uphold.
He lamented that despite the decision of a High Court sitting in Akure that all parties should maintain status quo until substantive suit is determined, the legislative arm of the state went ahead to impeach the deputy governor.
Akinyelure said the House of Assembly committed three different infractions to the 1999 Constitution in the process of the deputy governor, who had travelled out of the country for medical check-up before impeachment procedures started.