By Dayo Adesulu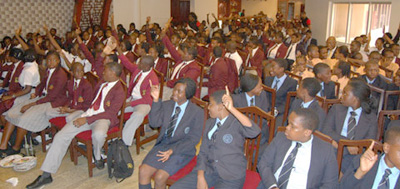 Over 500 parents last Saturday were charged not to dissuade their children from having a Nigerian accent while speaking English Language adding that it is a slap to our culture. The Executive Director, Caleb Group of Schools ,Mrs Dolapo Ogunbanwo who gave this charge said: "Don't let your children apologize for three things; the way they sound while speaking English Language, their physique and where they hale from.
Speaking in a parenting workshop organised by Sterling Bank Plc, Ogunbanwo explained that in as much as a child can speak correct English, he should not be persuaded to speak Queen's English or use British accent. She said: "You already have a Nigerian accent, maintain it. Do not hide where you hale from. Let your children be proud of their Nigerian accent and where they hale from. If they have any reason to listen to you when you speak, they should be the ones to learn your accent.
Ogunbanwo while speaking on the theme Understanding Developmental Stages: What parents must do to maximize potential, said that stimulating encouragement and correct motivation should be given to children "Every thing we go through has a lesson to learn. Provide the support children need to get better."
Meanwhile, the Brand Manager, Sterling Bank Plc, Mrs Olapeju Ibepe said: "Sterling Bank is partnering Caleb Group of Schools to boost education because we believe that education is the bedrock of any individual." She disclosed that the objective of the workshop is teach parents what they must know about their children to maximize the potentials in them.
According to her any person without education is not fit to lead anybody. Her words: "We are to support value added initiatives that will encourage education. We realised that people go to school to learn different subjects but nothing that teaches parents to be parents. We realised that there is a vacuum that should be filled.
This is the maiden edition of the parenting series to empower parents to give their best to their children, economically, socially and spiritually. Today. We find house helps raising children for parents which should not be the case. We realized that parents have to work to make ends meet, but this should not be at the expense of raising responsible  children for better tomorrow.