By Japhet Alakam
Olu Ajayi, is not a new name in the art circle, he is one of the few contemporary Nigerian artists, whose works adorn many galleries and museums and sort by many collectors. Since his graduation from the Auchi Polytechnic in 1984, and began work in 1986, he has been at the National Arts Theatre working as a full time artist.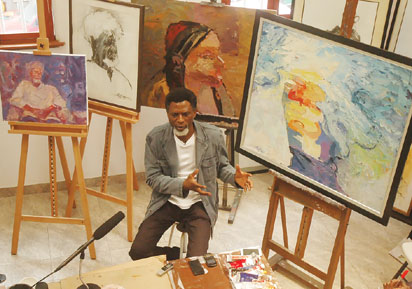 He was the chairman of the Nigerian Society of Artists (Lagos chapter), a Trustee of the Visual Art Society of Nigeria (VASON), and Guild of Professional Fine Artist Nigeria (GFA). Apart from all that, Ajayi is also the co-ordinator and brain behind the Living Legends Project, established in 2008, to honour and document Nigerian men and women of integrity. So far six people have been documented including the likes of Professor Soyinka, Prof Grillo, Oba of Benin and General Gowon.
When Olu Ajayi invited Art writers in his new studio at Onikan, people thought that he was set to announce the name of the 2015 living legend, but as fate would have it, he told them that they are still in search of the next living legend. He revealed that it is not easy to get such people.
For one to be qualified, "You must be a Nigerian who has been consistent at affecting our lives with positive contributions for nothing less than 30 years. What I mean is for you to qualify to be so recorded by painters and sculptors, you would have been working or contributing to national development for nothing less than 30 years and if you add that to your age, you should be in your 70's or 80s.
"The artistic merit of the project is in having a coalition of art and history. These people are considered to be part of our lives and have been considered worthy of being immortalised either on canvas or on paper or clay for posterity and so far we've been able to do just about six individuals namely Prof Soyinka, Oba of Benin, Prof. Grillo, Prof. Bruce Onobrakpeya, Prof JP Clark and General Gowon. These are the people we have documented since 2008 and that is to tell you how cumbersome it is to consider any one suitable to be so recorded.
Its been difficult because we are not doing political balance or job, it has nothing to do with that, we are not also doing people who are your usual suspect because we read about them all the time in the media, we are talking genuinely about people contributing to national development in various disciplines. The last person we did which was General Gowon. You will all agree with me that Gowon is a man of peace. Even with the storm in his political clime, he remains a retired army officer who administered the affairs of this country during the civil war. He didn't throw his weight around. He has always been an apostle of peace. We felt it was good to record him as Nigeria's living legend."
We are working on a book that will be a compendium of all the drawings and paintings; it will go into the hall of fame for the legend. Some of the materials that will come out of that are scholarly materials,'' he said.
For this year, we have not done anybody, but we are still searching although a lot of names have come up,but you will discover its not being popular alone, its for you to have been consistent with what you are doing and contributing to national development.
On the in coming government, Ajayi stated that, "we are looking at how we can keep the art community vibrant and my own take looking at the present day experience with the politicians, we are waiting for them to settle down before we decide and ask them what exactly do they have in stock for the artist."
There is a common error that is always been made, the politicians think that when they invite the home video people, they have discussed with the art community, that is not correct, they cannot have a vibrant nation that doesn't have a culture.
According to him, there can't be a vibrant nation without a vibrant culture sector. Ajayi who is not happy with the state of art called on the in coming government to prioritise art sector by establishing a museum of contemporary art to house all artistic efforts that contribute to global culture. In turn, the museum will attract tourists and investors."The museum will provide employment for those who are working there. It will generate income because the museum will have the capacity to make publications for people to buy and a café where people can mill around and have some form of refreshment. Also, artists should be able to obtain grants.
In the past administration, I am aware that some grants were given to some people in fashion and movie to start their businesses. We need an artist's village or community as obtained in other climes." He also disclosed that his studio here is also working on a partnership with other artists abroad "where we are going to have workshops in the area of painting and cordination to have an exchange program that will keep the art community vibrant.
On why he recently opened the studio at Onikan, he said it is for proximity's sake. According to him, the new studio is at the centre of Lagos and it will take care of art collectors who are unsure of their safety at the National Theatre. He also disagreed with the notion that it is only the man who has eaten five-square meal that buys paintings. It is not so, as mere looking at works in exhibition places makes people feel well."In fact, the best place to go when you are cramped is to go and see an art exhibition. They have psychological therapy in them."