By Is'haq Modibbo Kawu
THE story filtered out by late evening on Tuesday evening this week. President Goodluck Jonathan had placed a call to General Muhammadu Buhari, to congratulate him, as victor in what might be the most bitterly fought elections in recent Nigerian history. That statesman-like gesture carried very powerful symbols for Nigeria's democracy and the fate of our country.
There can be no more hiding places for those who put themselves above the welfare of the country; at the same time, Jonathan's telephone call underlined the fact that incumbency can no longer be the most important factor in the political cum electoral process.
Whenever a government fails to keep the Social Contract with our people, the ballot box can effectively be employed to deal a decisive defeat on such an erring government! President Jonathan entered the positive end of history at the moment of his greatest political anguish! He became the first Nigerian president defeated through the ballot box. He failed in governance and dangerously manipulated the country's fault lines, but his graceful gesture of acceptance of defeat saved us a potentially agonizing aftermath.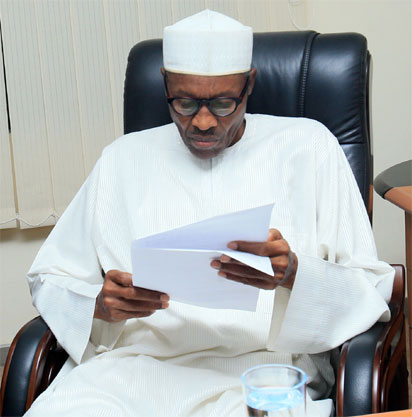 The significance of last week's elections reverberated around the world, catching people's interest from near and far. My friends from around the world were passionately caught up in the process and the nail-biting finale, almost as if they were also Nigerians. The fact that we are Africa's most populous and richest country, made the outcome of the process a vital part of democracy consolidation in our continent.
For once, Nigeria lived up to billing as African giant. Other elections come up later in the year around our continent; so Nigeria's ability to break duck will resound to Africa's benefit. If we manage the post-election period peacefully and responsibly, we would have achieved remarkable success. When President Goodluck made that telephone call to General Muhammadu Buhari, he helped douse what might have spiraled out of control and placed the country's health above personal interest.
Nigeria has been in celebratory mode since General Muhammadu Buhari's historical victory at the fourth time of trying. He persevered; stayed the course and taught vital lessons in persistence and focus, integrity and fidelity to principles. But Buhari would not have gone beyond his old hunting ground of Northern Nigeria, without the remarkable and politically adroit sacrifices made by leading politicians who formed the All Progressives Congress (APC).
For the first time in Nigeria's political history, they forged an alliance across the North/West chasm, which had historically proved most difficult to achieve. We cannot underestimate the process which midwifed APC; and I will be the first to admit that one of its greatest architects is Bola Tinubu. This is also infact the "Tinubu Moment" in Nigerian politics, because his farsightedness and political acumen to lead the process must be acknowledged. I say that, as a political commentator who has often been critical of Bola Tinubu's politics!
By galvanizing a process which provided an alternative platform to convey the hopes of the Nigerian people, the APC's founding fathers should be commended. Across Nigeria, from South to North, a mass movement emerged, which built around General Buhari's impeccable character, and the moment in history, found its man.
And when such a historical moment catches up with a country in crisis as Nigeria, the hurricane-like effect, becomes unstoppable! It is therefore one of the supreme ironies of this historical moment and process, that utterly corrupt and anti-people political barons, like the hegemonic forces and hegemon of Kwara state, could opportunistically, benefit from the Buhari mystique that they genuinely do not love! Eventually though, even opportunists spend all their currencies, because opportunism exhausts in the long run.
For example, even with Buhari in power, will the Kwara leopard change its spot? Would Kwara's finances ever be used for the benefit of its people? Would the hegemon; his satraps and their economic wellbeing stop being the most important items of finance and budget in Kwara? Will Buhari's emergence stop the manipulative exploitation of Kwara's underdevelopment by the hegemon and hegemony? These are some of the contradictions that might haunt the Buhari presidency in the long run.
Mandate delivered
But for now, we can take in the full measure of this fork of the Nigerian historical process. The Nigerian people accepted the message of change and have now delivered the mandate of its delivery, to General MuhammaduBuhari. Our country should now roll upits sleeves and go to work, to reclaim this beautiful, if overexploited country. I do not envy General MuhammaduBuhari, because the task ahead is immense.
How to manage expectations for change will test the capacity of the new administration, at a time the economy is in tailspin! Buhari must also unite his supporters and opponents alike. I wonder if General Buhari noticed the preponderance of young people at his polling unit in Daura last Saturday. Nigeria is a very young country, with 18 years as our median age: 45% of the population is under 15; 63% under the age of 25 and 75% is under 35! These are the most critical segments of the population and what they need are education; skills and jobs.
Our bizarre form of capitalism is not creating the jobs our teeming population requires. The Buhari administration cannot afford a religion-like embrace of market capitalist fundamentalism, as the PDP did disastrously, over the past sixteen years. In the process, they created a tiny band of 'Government-approved Billionaires", while impoverishing the mass of the Nigerian people. Today, Nigeria is one of the most unequal and unjust societies on earth! The consequences haunt us today: Boko Haram insurgency; sundry anti-state acts; many forms of criminal acts and brigandage and a society that is practically living on the edge of the precipice.
General Buhari must similarly, manage the expectations of members of the alliance of politicians, many of them clear liabilities with controversial careers, steeped in corruption, and other unwholesome acts that Buhari has always been opposed to, and which formed basis of the Nigerian people's affection for him. That should weigh on his mind as he makes the transition from this historical moment, to providing leadership for the change that he and his political associates promised the Nigerian people.
The clock is ticking; the next four years are just around the corner. The people now know that they can vote out of office a president and government that fail to keep their promises; if in doubt, please ask Goodluck Ebele Jonathan! Congratulations General MuhammaduBuhari.
'Omo to sure': The  Mike  Omotosho guber challenge in Kwara
ON Sunday night, this week, Mike Omotosho, gubernatorial candidate of the Labour Party in Kwara State, visited my residence in Ilorin. We held wide-ranging discussions for about two hours. It was my first meeting with him and he is the only one of the governorship candidates that asked to meet with me. Omotosho is a very imposing, and impressive individual, in many ways.
He has a background in pharmaceutical supply management and has done not for profit work for many years. He explained to me, that it was largely the work that he has done with people in communities and the challenges associated with their lives, which largely conditioned his decision to enter politics. "OMO TO SURE", as he is called by his admirers, says he sees his effort as an opportunity to touch lives.
He is a realist and optimist rolled into one, and his programme which is printed into pamphlet size and titled "SURE PATH TO GREATNESS", focuses mainly on social security; urban & rural development; Responsible & Responsive Governance; Education, Employment & Entrepreneurship; Productivity; Agriculture; Trade, Commerce & Industrialization and Healthcare. I reminded Omotosho of the challenge that he faces, in a state that for long has been dominated by the hegemony of a single individual.
He is willing to give his all; and his passion, conviction and commitment were certainly infectious! And the fact that I got to meet with him, allowed me to take a good measure of the man. I feel happy that increasingly, many genuine patriots are beginning to take up the mantle to oppose the corrupt hegemony that has been creaming off the resources of Kwara state since 2003. It is this criminal hegemony that has presided over the underdevelopment of our state in the past twelve years. This is the challenge, which Mike Omotosho has chosen to confront from the platform of the Labour Party. I wish him well.
Having spoken about Mike Omotosho, it is only fair to also mention other candidates in the race. Even my cousin, Ahmed Yinka Aluko, is the gubernatorial running mate of PDP Candidate, Simeon Ajibola,my senior at GSS Ilorin. Similarly, the incumbent, Abdul Fatai Ahmed, is someone with whom I have a relationship dating back decades.
But in all of these political contests, for me, the most important issue has always been the wellbeing of the people of Kwara state. Unfortunately, over the past twelve years, governance has resembled an elaborate pyramid scheme of fraud and personal enrichment, far more than delivery of good life to the people. This is the reason that I have been critical of the performances of government in our dear state, and the suffocating overlordship of a single individual who remains central in the governance architecture in Kwara state, since 2003.
Kwara state deserves the very best and unfortunately, that is what it has not received in the past twelve years. We have tremendous advantages that could have provided a basis for our development as well as positioning our people to take full advantages of modernity. These include the relatively high level of education; an enterprising people; a people with diverse cultural backgrounds, but who have learnt to creatively manage our diversity and made it work to a large extent, before a regime of heist and taking out but leaving little, was installed from 2003 till date.
It is imperative for all those who want to rule us to embrace platforms that make the people the central cause of the developmental agenda, not the creature comfort of a single hegemon and his satraps. Unfortunately, I never had the opportunity to meet the other gubernatorial candidates, but the regime of heist in place since 2003 is not sustainable.
Those exploiting the Nigerian people's desire for change to institute continuity of taking our money under fraudulent purposes will eventually give account. In any case, we won't stop monitoring and holding to account, whoever wins the gubernatorial election in Kwara state. That is what I owe the people of our state!