BY LAJU IREN & MAXMILLAN ANOSIKE
Last Tuesday made it a year since over 200 school girls were kidnapped from the Government Girls Secondary School, Chibok by members of the Boko Haram sect. If they had not been abducted, quite a number of them would have been rounding off their first year in tertiary institutions across the country. The situation is a tragic, despite this, the world has not lost hope that they will be found.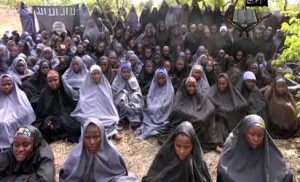 Malala Yousafzai, the world's youngest ever Nobel Laureate who, in 2012, was shot in her home country of Pakistan for speaking up for her right to education, wrote an open letter to the Chibok girls which could be described as a message of 'solidarity, love and hope.' Vanguard Learning compiled excerpts from her letter, as well as letters from students of all ages across the country.
-Malala Yousafzai, 17, Edgbaston High School, Birmingham
To my brave sisters, the kidnapped schoolgirls of Chibok,
On this first anniversary of your captivity, I write to you with a message of solidarity, love and hope.
My name is Malala. I am a Pakistani girl your age. I am one of the millions of people around the world who keep you and your families foremost in our thoughts and prayers. We cannot imagine the full extent of the horrors you have endured. But please know this: we will never forget you. We will always stand with you. Today and every day, we call on the Nigerian authorities and the international community to do more to bring you home. We will not rest until you have been reunited with your families.
-Blessing Ifeoluwa, 11, Community Primary school, Igando
Dear Chibok Girls,
I strongly believe that you will be found very soon. I heard that the new President-Elect has said that he will make sure that you are brought home soon and that he is making arrangements to equip the military to find you as soon as he is sworn in. Wherever you are, I want you to have hope that by the end of this year, this will be a thing of the past.
-Adeola Olalere, 14, Auntie Yemi secondary school
Dear Chibok Girls,
As a girl myself, I know the roles that girls play in the family. No girl should be missing from her home. Please be strong, and don't give up; you will be brought home soon.
-Adaeze Orji, Ikotun High school
Dear Chibok Girls,
Please do your best to remain strong and unafraid. Everyone is putting pressure on the government to find you, and we know that very soon, we will be celebrating your return.
-Ugo Chinelo, Nnamdi Azikiwe University
Dear Chibok Girls,
You have been missing for over a year now and nobody knows your whereabouts. It makes me worried about how insecure our country is today. Nevertheless, I have no doubt that things are changing in our country for the better and that you will be home soon.