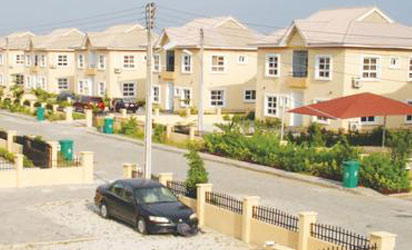 A Housing Estates in Lagos
By YINKA KOLAWOLE
Housing microfinance, otherwise known as microfinance for housing or incremental financing, is regarded as the application of a microfinance based approach to housing finance. While the concept 'housing microfinance' is relatively new in development circles, the practice is not.  Access to housing and access to housing finance by low income earners is a critical development issue facing most countries around the globe. Many households in Africa are unable to access mortgage finance either because it does not exist or because it is inaccessible.
UN Habitat notes in a report the predominance of two extreme outcomes of current shelter systems that are being witnessed today – affordable shelter that is inadequate, and adequate shelter that is unaffordable. The report goes on to state that within the next 20 years it is unlikely that conventional sources of finance will be available in many developing countries for investment on the scale needed to meet projected demand for infrastructure and housing.
With deficits in public budgets and the persistence of weak financial sectors, the situation seems untenable. Throughout sub-Saharan Africa, income levels are such that the majority of households cannot afford to buy the least expensive house, even if mortgage finance were available.
Opportunities
Nigeria represents a potentially huge market for housing development, mortgage and housing microfinance lending. At the Africa GRI 2014 delegates highlighted the fact that despite high transaction costs, the returns are high. The Global Real Estate Institute (GRI) is a global club of senior real estate investors, developers and lenders that runs its activities through a collection of annual meetings focussed on different regions of the world.
The delegates noted that while the government and its various institutions are paying substantial attention to the mortgage market, the potential of the housing microfinance market is increasingly being acknowledged. With a population of more than 100  million low-income people and a small mortgage market, housing microfinance has enormous potential in Nigeria.
Accessible mortgage
With an aim to ensure that all Nigerians are able to own a home, the Federal Government is using three strategies – land swap initiatives, affordable and mass housing schemes and accessible mortgage finance. In addition to unveiling the Nigerian Mortgage Refinance Corporation (NMRC), the federal government also launched a national N960  billion housing scheme for labour union members. Similar to the NMRC, the Lagos State government launched the Lagos Home Ownership Mortgage Scheme (Lagos HOMS).
A Public Private Partnership (PPP) initiated by the government and administered by the Lagos Mortgage Board (LMB), it aims to support first time buyers in the state to purchase decent homes through accessible mortgage finance. When the scheme was flagged off in February 2014, 1,104 housing units were completed and 3,156 units were at various stages of completion. Both NMRC and Lagos HOMS are PPPs and this is fast becoming one of the key strategies used by the government to drive the growth of housing delivery.
As well as the private sector, the government is working with non-governmental and non-profit organizations to deliver homes to low-income earners. The Lagos State Government also established the Lagos State Co-operative Home Ownership Incentive Scheme (Lagos CHOIS) to provide housing for low and medium income households.
The state government entered a partnership agreement with First World Communities Limited under the CHOIS initiative in 2005 to build 10,000 houses in three senatorial areas of Lagos namely; Abijo, Agbowa and Badagry. As part of the agreement, Governor Babatunde Fashola recently commissioned CHOIS City, a 460 housing unit residential estate located in sub-urban Agbowa-Ikosi in Epe.
In 2013, the Federal Mortgage Bank of Nigeria (FMBN) launched its Informal Sector Cooperative Society Loan Scheme, designed to enable informal sector participants to access the benefits of the National Housing Scheme. FMBN's Managing Director,  Mr. Gimba Ya'u Kumo, explained that scheme will provide a platform for members to form housing cooperatives to access loans for estate development. To qualify for the facilities, participants are expected to make a minimum monthly contribution of N450 for at least six months.
The scheme involves the issuance of e-collection cards to contributors, which will in turn streamline the collection process and cut out deficiencies of manual collection, while allowing contributors real time access to their contribution records. The loan facility offers borrowers a 24 months repayment period at 10  percent per annum for houses worth not more than N5 million.
Also in the same vein, Prime Asset Housing Co-operative Multi-purpose Society, a private initiative, was established to enable people pool resources together for the purpose of owning their homes. The Home Ownership Savings (HOS) plan of the Cooperative is to facilitate pooling of savings towards securing or meeting required deposit payment for a property (built or landed), mortgage financing or any such expenditure geared to facilitate members' house ownership drive.
Housing supply
The private sector continues to deliver new housing units for the luxury and high-income bracket. It is estimated that the formal and informal private sector provides over 80  percent of the housing stock in Nigeria. Though there is insufficient data on the proportion of private, government and individual contributions to the housing stock, it is general knowledge that the incremental building by individuals on land purchased by private land owning families is the most prevalent, particularly with respect to housing low and medium income groups.
Nigeria's housing deficit is estimated to be over 17  million units and growing at about 780  000 units yearly, due to the high cost of building and slow construction process. Of the 17  million unit deficit, Lagos State is estimated to have a deficit of one million. Between 1999 and 2011, the state government built 3,766 housing units in 17 housing estates, averaging 316 units annually. In the last five years, however, the rate of delivery has improved drastically. In 2012, the total number of units delivered into the market was slightly above 1,500 units and this rose by 48.2  percent with 2,299 housing units delivered in 2013. However, this is still not meeting the demand.
Way forward
Centre for Affordable Housing Finance in Africa (CAHF) has undertaken various research initiatives to explore the state of housing microfinance across sub-Saharan Africa, highlighting innovation and providing recommendations for attention by financial institutions and governments.  "Our work is focused on supporting the growth of a housing micro-lending sector in Africa, with more players supported by more investors, reaching more clients," it stated.
Generally, in Africa, high income earners use their own resources to build or buy houses for themselves outrightly, the middle class and low income earners finance their own construction gradually over time. Housing microfinance makes it possible to address housing needs progressively, step-by-step, towards a larger housing vision.