By Bashir Adefaka and Damilola Igbedion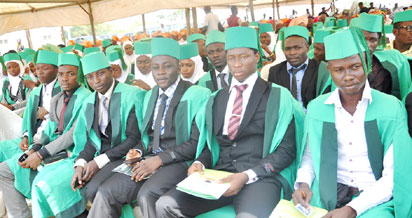 The three-day graduate internship orientation training programme started in Lagos on Monday ended Wednesday with interns and firms' representatives rating the Subsidy Reinvestment and Empowerment Programme, SURE-P, office organized programme.
Many of the interns and representatives of their firms of attachment saw the programme as laudable and truly working for the better of the Nigerian society.  They however craved the indulgence of operators of the government to ensure that the mentoring programme for young graduate interns was sustained.
The three-day mentoring programme, put together by the office of the SURE-P of the Federal Ministry of Finance in collaboration with Axiom Learning Solutions Limited, a technical consulting firm in the training programme, was held in the PSSDC Centre, Magodo GRA Phase II, Ikeja, Lagos.
According to Director of the Graduate Intensive Scheme, GIS, in the SURE-P office, Mr. Peter Pakpa, whose address was read by Kemi Fatoki during the opening ceremony, the training programme is in line with the transformation agenda of President Goodluck Jonathan intended particularly to make otherwise unemployable graduates fit into the employment sector.
The government of the federation is responsible for training cost and N30,000 monthly salary paid to each intern for the one year internship period with strict monitoring that ensures that fund is not intercepted by any of the employers to whom the interns are attached.
Apparently delighted that the aim of the federal government has been achieved, Mr. Ani Charles Bassey-Eyo, who is the director of Axiom Learning Solutions Limited, enthused; "We have delivered absolutely, I would say that we have delivered in our own part as technical partners in this training programme.  This is going on all over the country giving training to interns.  Today is the third day and I can see the interns thoroughly engaged.  They were very appreciative of the Federal Government providing this platform and they left more motivated.  I think most of them left feeling like entrepreneurs.
"So, I would say that the training programme has definitely achieved the goals and purpose that it was set for. Now they move on to their firms where they will be working for the next one year.  Most of these trainees and interns have been unemployable.