BY  JOSEPHINE AGBONKHESE
Young and ambitious Ukalina Opuwari was winner of the Maltina Dance Hall Competition in 2008.The Mass Communication graduate of the University of Nigeria, Nsukka, is currently Director at the Society for the Performing Arts in Nigeria, SPAN, where she co-ordinates dance activities.In this interview, Ukalina talks about the highpoints in her career, challenges and prospects.
Why did you chose this line of career?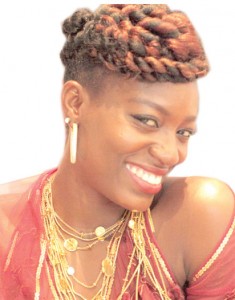 Since I realized I had the gift naturally and it made me happy, I pushed to become a performer extraordinaire and to also pass the knowledge to the young ones! I never saw myself doing a white collar job but in the performing arts. So it chose me. I have passion for presenting as well.
Let us talk about some of the memorable moments in your life…
The first memorable moment for me was when I won the Maltina Dance All Season 2 with my family. The second experience for me was when I got certified as the first lady teacher in Nigeria in Latin and Ballroom and being part of SPAN. Finally my proposal in Las Vegas which is still ongoing.
So, who or what do you consider the greatest influence in your life?
My greatest influence will be my background, my family, Ice Nweke, Sarah Boulos, Diane Jarmolow, all the staff and students in SPAN. Most especially kids; I love kids and they sure influence the way I do things.
Let us talk about your job at SPAN; what are some of the achievements recorded?
Apart from the successes recorded by the society, other aspects of achievement are personal! I have evolved from just being a performer to an educator and much more. I have been opportune to travel to many places and have met international stars in the dance industry especially in Latin and Ballroom.
What are some of the projects you have participated in after Maltina Dance Hall?
There are many but I will name a few. I was an instructor for about 3 seasons of the Maltina Dance Hall and in the past two seasons, I was the Regional Judge. I was the Choreographer for Miss Queen Nigeria 2014, I played a major character in Love is the Musical Season 1-4. I have played a major character in Amstel Malta Showtime "The Rush" and also in "Realvolution" during the re-launch of the Legend drink.
I was also the Regional Judge for Hip Hop World International and also a Judge in International Dance Organization competition. I performed alongside Osas Ighodaro during the opening of the AMVCA 2015 and currently the presenter for Dance and Learn, a dance show showing on Cool TV.
Challenges encountered…?
In the dance industry, the major challenge is financial support and acceptance! Right now, we are accepted as part of the entertainment industry but not totally as we are not appreciated as we should be. Also, the educative part is still suffering as we are yet to attain that excellence needed in the business.
How do you cope with some of these challenges?
Honestly, I'm determined, like some others, not to be put down by these challenges. Our passion is our strength and daily I work harder so that the next generation can achieve much more and be better. They can have more access and be able to understand that dancing is serious business.
So, what changes would you like to see in the next five years?
I would like to see Dance institutions in every state and performing art centers. I want dance to be a profession on its own and to see more trained dancers, teachers and choreographers. I want people who are gifted to be able to channel it in the right direction and for Nigerian Dance styles to be exported and known worldwide. I want to see people appreciated for their contribution and hard work, for the kids to take dance as part of their subjects.
How would you compare what you are doing with colleagues in the other parts of the world?
I would say we are exceptionally powerful and gifted! We are so passionate yet indisciplined ! They work harder at what they can do and perfect it daily, we get distracted with many things and at the end we don't even get to our maximum! We are creative but lack the support to bring that to pass.
Who are those you admire greatly?
My mum, sisters, Pastor Nonso Ubajekwe, Sarah Boulos, Ice Nweke, Olufunmi Olajoyegbe, Bright Gain, Buddy Agedah, Lovette Otegbola, Lilian Yeri, Penny Mohammed, Diane Jarmolow, Bunmi Olunloyo, Joanna Leunis, Isabella Lewandowski and Catherina Galas.