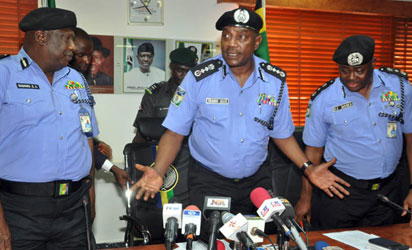 File: Acting Inspector General of Police Solomon Arase (middle) discussing with his Deputy Inspector General of Police Hashimu (left) and DIG Doma (right) shortly After handing Over in Abuja Yesterday. Photo by Gbemiga Olamikan
By Soni Daniel, Regional Editor, North, Emma Nnadozie, & Kingsley Omonobi
ABUJA — There was confusion and drama at the Force Headquarters in Abuja, yesterday, as the sacked Inspector-General of Police, Mr Suleiman Abba, stalled the formal handover to his successor, Mr Solomon Arase, until he was compelled to do so by the Presidency.
This came as some former Inspectors-General of Police expressed reservations over the manner Abba was removed while other leaders were divided over the sack.
The handover ceremony which was earlier slated for 8 a.m. with invitations sent to journalists for coverage from the office of the Force Public Relations Officer, did not take place until almost 4pm following the absence of the ex-Police boss at the headquarters.
Abba was said to have removed all his personal belongings before leaving the office around 11.20 p.m. after the announcement, Tuesday. According to his aides, when they visited his official residence at Maitama early yesterday, Abba said he was yet to receive any official letter informing him to hand over as he heard the news of his sack on radio and television like other Nigerians.
Vanguard learnt that reporters who converged in their numbers early in the morning for the handover, were disappointed as they were not allowed access to Force Headquarters. No reasons, according to sources, were given for the delay in the handing over ceremony.
3 DIGs protest appointment of Arase
Meanwhile, uncertainty continued to pervade Force Headquarters after it was reliably gathered that three of the serving Deputy Inspectors-General of Police were holding an emergency secret meeting in one of the offices on the 6th floor of the headquarters building.
Feelers from the meeting indicated that they resolved to strongly protest the appointment of their contemporary, Arase, DIG Intelligence, as acting Police boss on the grounds that they were all promoted same day on February 20, 2014.
The three DIGs were also said to have sworn to contest the appointment of Arase to the highest level because they were not well treated by his appointment. While palpable tension generated by the ugly development threw Force Headquarters into confusion, other top officers and the rank and file were seen in different moods.
Many of them stood in groups discussing the development in hushed tones. Some officers were also seen in jubilant mood, praising President Goodluck Jonathan for taking the decisive action.
They alleged that they were not well treated by the former IGP during the elections as they were not paid their due allowances. Many of the officers, however, commended the appointment of Arase, noting that he is well suited for the job.
Handover at last
While the situation continued to generate tension, relief came at last after the Presidency reportedly directed that the ceremony must be completed without fail before end of the working day.
This, according to sources, forced Abba to quickly rush to Force Headquarters after directing Force Public Relations Officer to issue fresh releases inviting reporters for the ceremony at 2.30pm. The handover later took place around 4.30pm.
I'll provide highest possible level of professional leadership —Arase
After the dust had settled, the acting Inspector-General of Police, Mr. Solomon Ehigiator Arase, yesterday took over command of the Nigeria Police Force from his predecessor, Abba, with a declaration that he will provide the highest possible level of professional leadership while trusting that officers and men shall march hand-in-hand with him to advance the fortunes of the Force.
Arase made the declaration even as he warned unrepentant felons who may want to put to test the common will of the Force by disrupting the re-run elections in Imo, Abia and Taraba states to think again as the Force will not hesitate to deploy its potent assets to deal firmly and decisively with deviants.
His words: "My dear officers, the task of blending our acclaimed quality human assets with quality leadership is the main challenge ahead of us but it is one I am convinced we can surmount.
"In so doing, we must resolve, both individually and collectively, to hold our duties sacred, perform our functions with pride and exhibit the highest level of professional excellence in all our engagements.
"Let me use this opportunity to quickly remind you that aside our routine operations, we have within the short term, two major national assignments where our professional expertise and commitment will once again be subjected to national and international scrutiny. First, is the conduct of the governorship elections in areas where they were declared inconclusive by INEC— Imo, Abia and Taraba states.
"The second is the delivery of hitch-free presidential, governorship, National/state Assembly inauguration at federal and state levels. While with your support, I am confident that we have the operational capacity to ensure the success of both exercises, I am not unmindful of the possible security threats that some lawless individuals may attempt to pose during the make-up elections.
"Consequently, while the unique intelligence assets of the force will be deployed to proactively support our operational plans, there shall also be massive deployment of men and materials to the affected areas in order to assure a secure environment for the qualified electorate to exercise their franchise.
"I must, however, re-emphasize that as a nation, we have had enough of electoral violence. Therefore, under my leadership, we shall work closely with INEC and other strategic stakeholders to ensure that such acts will not only be defined as intolerable; perpetrators will be identified, isolated and brought to deserved justice to act as deterrence.
Arase urges politicians to play the game by the rules
"To the unrepentant felons that may want to put our common will to test, the message is being relayed here loud and clear, that in securing the law-abiding, we shall also not hesitate to deploy our potent assets to deal firmly and decisively with deviants. In addition, I will ensure that the AIGs and CPs that will be deployed for the election duties are empowered enough to ensure the success of their operations.
"In line with the principle of 'to whom much is given, much more is expected', such senior officers should be prepared to be accountable for their actions while the exercise lasts."
While calling on political actors to assist the Police and other law enforcement agents in sustaining the gains recorded in our democracy journey, the Acting IG said:
"They should remember that politics is a game guided by rules and it behoves them to play the game by the rules."
On Abba, he said: "Aside being a vastly experienced police administrator, IGP Suleiman Abba is known to be gifted with exceptional leadership qualities which have manifested in his trade mark comportment, humility and respect and courtesy with which he treated members of his management team throughout his tenure. Even more elating is that he is a unique motivational leader that demonstrated genuine passion for the welfare of officers and men of the force."
I want to move on with my life —Abba
On his part, former IGP, Abba said: "Let me first congratulate the acting IGP for the elevation. With every sense of sincerity of purpose, let me say it is a well deserved appointment, not only for the management of the force but for the society of Nigeria. That is to say I wish him well and know he will do well.
"I want to thank the Almighty God for my appointment and like He (God) said, He alone gives and He takes; particularly now that I am leaving in good health. I want to also thank President Jonathan for appointing me as IGP and seeing me up to this time because I believe God knows the best.
"Now I want to move on with my life and in doing that, I want to use this opportunity to appeal to those who we might have offended to know that the nature of policing in a country like Nigeria is fraught with its challenges. We have different people, different values. Even at that, I want to appeal to those who feel deeply offended to have a place in their heart to forgive and lend support to my colleagues.
"My happiness is that we have gone through the elections and after all the hard work, the elections are almost over. I want to thank those who helped in making sure that we have peace today. Leading in this line is President Goodluck Jonathan, the Nigeria Police Force, other security agencies, the Peace committee, civil society groups. But it is not yet over because elections are yet to be concluded in three states."
Ex-IGPs regret sack, say action killing police force
Meanwhile, some former Inspectors-General of Police have expressed reservations over Abba's sack, saying the action of the President and others in the past was killing the Nigerian Police Force.
Speaking on behalf of his colleagues, former Inspector-General of Police, Alhaji Aliyu Ibrahim Attah expressed regret that with the sacking of Abba, the Nigerian Police Force has produced six different Inspectors-General of Police within a period of six years, noting that by so doing, the best trained officers of the force were being eased out at such fast pace without equally well-trained and well-experienced replacements.
Noting that if reasons for Abba's removal which were attributed to political issues were true, Attah said:
"Then I think it is not good for somebody who is an IGP not to be allowed to do his job. He is a professionally trained officer. In fact, I read it two days before his sack that Abba will go because of certain issues about politics but before one can say jack, Mr. President removed him. It is not the best for the police institution.
"The young man that is leaving (Abba), I can't fault him for the way he did his job during the elections. He moved officers from point A to point B because he wanted a good job done. So they cannot say he was partial. He knows his officers. If Abubakar is good for Sokoto, he posted him there, if Ikechukwu is good for Ebonyi, he posted him there. It is when you see him collecting money that you can sanction him and that is not the case.
"I don't think the Prime Minister of Britain would get involved in such a thing. The American ambassador was at Force Headquarters to commend the IGP for a marvellous job during elections, the next thing, the IGP is being sacked. I hope this will be the last of it.
"Do not get me wrong. Both Abba and Arase are officers who grew up under us. Arase, Abba and some others are very intelligent officers, professionals to the core but their breed are few and adequate training has not been impacted in the force to produce others like them. Aside from this, Arase according to the law is supposed to retire soon.
"So the Police, as it is now, are gradually being moved to ground zero. Why I am not happy is that we are doing these things and we are not thinking about training and improving the capacity for the force."
On how it can be averted
On how incidents like this can be averted in future, the former IGP said such bodies like the Council of State for former heads of state, Council of Chief Justices and other retired senior judges who are consulted from time to time, should be constituted for the police that will involve retired IGP's, who will be consulted when such issues arise.
"The truth is that you have to bring up the police force that we deserve. If you train them shabbily and there are no good accommodation and nobody cares, ours is just to see the policeman on duty, the policeman makes his uniform, buys his beret, then these things will manifest.
"Also, something must be done in the area of training so that as the hierarchy is going, the ones taking over are seen to be capable to do the job. Many retired IGPs are not happy about what is going on because it is killing the force."
Leaders differ on IGP's sack
Also, barely a day after the sack of Abba, northern leaders have differed on the action, saying that it portends a bad omen for the country.
Second Republic lawmaker, Dr. Junaid Mohammed, described the removal of Abba as a political vendetta carried out to massage the political ego of Jonathan and his grieving party, the PDP, having lost the elections to the opposition All Progressives Congress, APC.
Mohammed said that the sack of the police officer was not only ill-timed but carried out without any justifiable reasons that Nigerians of good conscience could applaud.
The former presidential aide said although Abba did not impress him as a professional police officer given his role in the National Assembly imbroglio of last year, it was wrong for the President to fire him from his post on account of doing his job to satisfy the larger interest of the country.
He said that it was also wrong for sitting presidents to appoint senior police officers principally on the basis of supporting the government in power to win elections or fire them in the event of losing grounds.
"We must begin to appoint senior police officers on the basis of competence and merit so that they can help in sustaining and implementing the criminal justice system and add value to our democracy," Mohammed said.
"Any attempt by any government in Nigeria to choose and pick partisan elements to occupy top posts in the Nigerian Police with a view to assisting the government in power to win elections is against the spirit and character of the Nigerian constitution and will never work."
But the President of the Northern Elders' Council, Alhaji Tanko Yakassai, argued that President Jonathan might have had a more serious reason for relieving the IGP of his post and should not be condemned for playing his constitutional role.
Yakassai, who spoke in an interview with Vanguard, said it was too early for Nigerians to begin to blame Jonathan for his action, asking them to find out why the police officer was fired barely a few weeks to the end of the administration that brought him to power.
The presidential adviser to former President Shehu Shagari said: "I believe that there must be a more serious reason for the action of the president than what is currently being bandied about in the media. "Nigerians may never know the true position on the removal of the IGP but they need to find out before advancing reasons."