By Amaka Abayomi & Laju Iren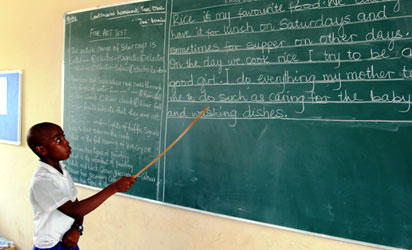 The labour of our heroes past shall never be in vain. Ten year old Ikenna Chukwudi sings this line of the national anthem every school morning. It is hardly his fault that he has no idea who these 'heroes' are. The Nnamdi Azikiwes, Tafawa Balewas, and Anthony Enahoros are strange to him; so are King Jaja of Opobo, Nana of Itsekiri land, Usman Dan Fodio and Queen Amina of Zaria.
He isn't the only one in this category; others in his generation are much more familiar with the release date of the iPhone 6 than October 1st. Over one year into the new educational curriculum, which blends the History subject with Social studies and Government, things are bound to get worse.
Speaking in an earlier interview, the Executive Secretary, Nigerian Educational Research and Development Council, NERDC, Professor Godswill Obioma, said what was done was to streamline subjects in the new curriculum for greater efficiency.
"What we have done is to ensure harmony because there were repetitions in the old curriculum. For example, subjects that are strictly civic education that have to do with national values and civic responsibilities had been properly put under Civic Education while those that are strictly social studies, which have to do with government, history, geography and social relationship of communities, have been put under Social Studies.
"We used to have 20 single subjects listing. We had English as a subject, mathematics, basic science, basic technology, then languages under this listing, if you count them one by one, it will be 20. But in the new curriculum, we have been able to reorganise them into a maximum of 10." In the big picture, however, what could this 'greater efficiency' mean for the future of the country? Barrister Aderemi Brito, a lecturer of History and International Diplomacy, Lagos State University, gives a gloomy answer to this question.
"It is very unlikely that our society would be able to move forward without the study of history at the primary and secondary levels. History is the study of the past in relation to the present and the future. We can't move forward if we do not know where we are coming from." For the National Coordinator, Education Rights Campaign, Mr. Hassan Soweto, there is the urgent need to review the neo-colonial market-driven curriculum to ensure that we produce graduates that meet the requirement of the capitalist market.
Educationalstakeholders
"As education stakeholders at a recent National Summit organised by ASUU, SSANU, NASU and NAAT agreed, there is the need for a liberating education curriculum focused on educating Nigerians to be conscious of their history, to be equipped with the right ideas not only to contribute to society through their labour but also to liberate our country from imperialist domination and at all times defend the principles of freedom, liberty and community.
"Instead of the sense of community, our students are being taught individualism; instead of the real history of Africa and its people, students are being taught that Mongo Park discovered the River Niger. Instead of the dignity of labour, our students are being taught the benefits of the get-rich quick culture of the stock market" Soweto posited.
The Principal of Excel College Lagos, Mrs. Grace Oke, described the act as a disaster that is borne out of ignorance on the subject's significance. She likened the deed to that which could impede the fight to foster unity in a nation like Nigeria that is comprised of various ethnic groups and thus expressed that the subject should be brought back to the curriculum.
She situated that History as a subject be made mandatory from the primary to the tertiary level because a people that forget their history can never develop. Oke said: "Trying to build a nation like Nigeria without the knowledge of the history of the people is like building a castle in the air. Being a heterogeneous society, to bring unity in diversity so as to live together, Nigerian history must be taught as a compulsory subject from primary school to the university irrespective of one's course of study."
Broadening theirhorizons
She also posited that the removal of the subject would lead to its extinction in the nearest future and cause the nation to regret the act. According to her, the step has affected the students academically because they have lost some core values which history was meant to instill  in them and help to broaden their horizons. The Vice-Principal of Salama High School, Jos, Mr. Harrison Oghenoronva, also lent his voice, saying "History plays a very important role in our national development, we need to go back to history and past events for reference purposes. We need History in order to know our roots and make sense of the present."
Another teacher in Lagos, Mrs. Patience Ihuoma, said "By studying the choices and decision of the past, students can confront today's problems and choices with a deeper awareness of the alternatives before them and the likely consequences of each. So I think History is recommended for schools not scrapped." These educationists also debated on the ability of subjects such as Government and Social studies, to fill in the void which the lack of History has created.
Ogheneronva said: "When we talk about History and Government as subjects, you discover that they are not the same thing. Government deals with administration and current affairs while History deals with past events and culture. Instead of scrapping the subject, policy makers should focus on cultural awareness and sensitization of man power in handling of the subject, to keep students from losing interest in it."