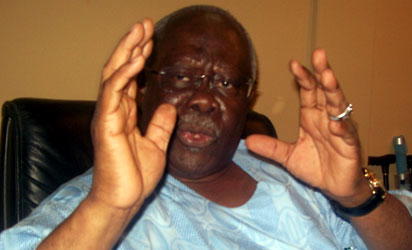 Chief Olabode George
By Emmanuel Aziken, Political Editor
Chief Bode George's claim that the national leader of All Progressives Congress, APC, Asiwaju Bola Tinubu, apologized to him should be taken as the meditations of a man in search of political relevance, Mr. Sunday Dare, Media aide to Tinubu, said yesterday.
Dare told Vanguard yesterday: "Bode George takes himself too seriously. He is in search of political relevance, which has since deserted him."
George, leader of Peoples Democratic Party, PDP, in Lagos State, was quoted in a national weekly yesterday as claiming that Tinubu had, last year at the burial of Alao Ariseokola in Ibadan, apologized to him for purportedly conspiring with others to put him in jail.
He had been quoted as saying: "They called Bola; he shook my hand and said he was sorry. It was in public. Since then, if we meet in public, we greet. But our concepts of politics are different."
However, responding in a text message to Vanguard last night, Dare said George's claim "to seek political rehabilitation through a bogus claim that Tinubu begged him for forgiveness is unexpected of a leader like him.
"Tinubu bears Bode George no ill feelings. Although Bode George has used every media interview to attack Tinubu, Tinubu has hardly responded.
"The task of nation building, presently at hand, is more urgent than this distraction."