By Levinus Nwabughiogu
His eyes did not only stick on the  targets or his hands only on the trigger as a combatant soldier.
He also had them searching for a beauty. And truly, he eventually got one. That makes him a complete marksman and generalissimo.
Anyone who has seen the would-be First Lady of the Federal Republic of Nigeria, Hajiya Aisha Buhari would not bother to know why her hubby and president-elect, General Mohammadu Buhari,retired, has shown so much resilience in his political expeditions since 2003 he debuted onto the thresholds of partisan politics.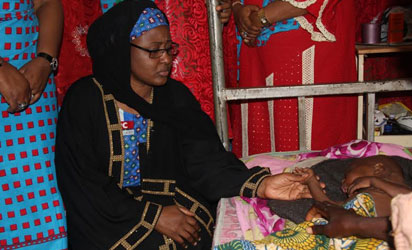 Like politics, Buhari must have displayed unusual patience to marry such a paragon of beauty in 1989, four years after he exited office as the Nigeria's military Head of State.
Though she may have put up some appearances in the previous presidential campaigns of her husband in 2003, 2007 and 2011, Aisha Buhari still largely remained an unknown name to many people until the 2015 presidential election campaigns that eventually crowned the efforts of her husband.
Her beauty may have also accounted for why many heads turned at the inaugural meeting of All Progressives Congress, APC women presidential campaign initiative in Abuja on January 24, 2015 when she emerged in the auditorium.
Delectable, enchanting, so fascinating unassuming and then soft spoken, she must have won admiration and sympathy for her husband as many were quick to compare her with the outgoing First Lady, Dame Patience Jonathan.
Factually speaking, one thing most people had waited to see at the meeting was whether Mrs. Buhari was power hungry like the other First Ladies, but that was far from being a reality. Instead, she said she would only occupy the office of the First Lady if first her husband wins the election and if it is constitutionally recognized.
Hear her: "When my husband is elected as the president of this country, he will govern the country within the rule of law based on the constitution of the country. If the office of the first lady is constitutionally recognized, my husband will not tamper with it but if it is not that's okay. For me, I will perform my duties and role as the wife of the President of Nigeria traditionally."
"The wife of the president has some traditional roles, like receiving guests, visiting orphanages, helping the less privileged people. Also, leading the fight for the right of women and and malnourished children, infant mortality rate, kidnapping and girl child trafficking."
It would be safe to say that the meeting marked the commencement of Mrs. Buhari public appearances for 2015 campaigns. And as the campaign lasted, she made sure that decorum was her watchword as she only dealt with the issues and never threw up tantrums and invectives on anyone.
For instance, she would be remembered for the reassurance she gave to Mrs. Jonathan when the latter took the message of imprisonment to the streets, telling Nigerians not to cast their votes for General Buhari as he would "jail" them if elected president.
Insisted of playing politics with the statements, Aisha in Benin during Edo State APC mega rally told Nigerians that her husband would not send anyone innocent Nigerians to prisons and crime against the state would be handled by law.
She equally took the welfare of Nigerian women especially the widows to heart, assuring them that under her husband, policies that would guarantee their improved living standard would be initiated.
She said: "Each zone of the country has its peculiar problems. For me, in this zone, girl-child trafficking should be considered one of our problems, though I know there is unemployment.
"Unemployment is the major factor that contributes to brain drain and also the girl-child trafficking. General Muhammadu Buhari is a leader who led Nigeria some decades ago and he is coming back now to sanitise the system.
"For those that are campaigning, saying that he is coming to jail Nigerians, I don't know what their fear is. But they shouldn't be afraid, because we are all yearning for change.
The insecurity in the country, the very poor healthcare system, lack of education and other basic necessities that people are lacking, I believe that Nigerians need somebody like General Muhammadu Buhari now.
"Already, they have painted him black, using religion. I'm happy today that Nigerians realize that they use religion as a cover to loot Nigeria.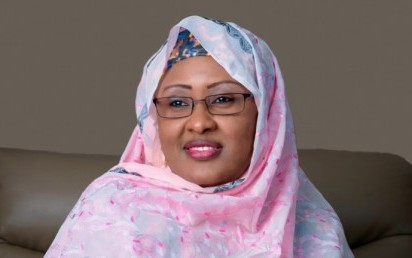 "Any politician who talks to you about religion is a liar, he only wants to loot the treasury and the little resources you ought to enjoy. So say no to merging politics with religion; that's to deceive the people.
"I'm here today to let Edo women know that when my husband is elected into office as President, all these will be history. The insecurity, the girl-child trafficking, the plight of the widows in the South East will be looked into.
"There must be a cultural design that can accommodate the widow. A design that would make the girl-child comfortable wherever she is in this country.
"The portion of the girl-child is to have a highl standard and moral society for her to live in, get married, have children, train them and also mold them to become the future leaders."
For a woman who speaks so passionately about the development of women, many believe that under Buhari, the women and the youth would be given utmost priority.
Meanwhile, Mrs. Buhari who would be occupying the women wing of Aso Presidential Villa from  May 29  was born into the family of Nigeria's first minister of defence, Alhaji Muhammadu Ribadu in Adamawa State.
She clocked 44 years at the peak of political campaigns in February, having been born   on 17th February 1971.
She got married to General Buhari on 2nd December 1989.
A graduate of Public Administration from the prestigious Ahmadu Bello University, Zaria, Mrs. Buhari subsequently trained in beauty therapy and is an alumnus of the Carlton Institute of London and the Academy Esthetique Beauty, Institute of France, Dubai.  Mrs Buhari is currently a graduate student of International Affairs and strategic planning.
A devout Moslem, she and her husband are blessed with five children.