By Soni Daniel, Kingsley Omonobi, Ben Agande & Jude Opara
ABUJA — The two leading candidates for the Presidential election scheduled for tomorrow, President Goodluck Jonathan of the Peoples Democratic Party, PDP, and Maj-Gen. Muhammadu Buhari (retd) of the All Progressives Congress, APC, yesterday signed another peace accord, 48 hours to the election, where they affirmed their preparedness to accept the outcome of free, fair and credible elections.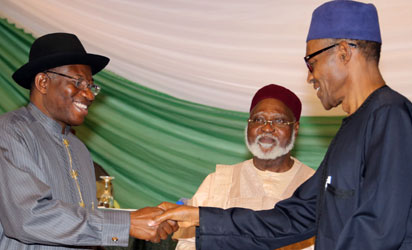 The meeting was facilitated by the  General Abdulsalami Abubakar-led  National Peace Committee on 2015 Elections and witnessed by members of the committee, including the Catholic Bishop of Sokoto Diocese, Bishop Matthew Hassan Kukah, who read the statement signed by the two candidates.
The statement:
"Renewal of our pledges to peaceful elections
"Joint statement issued by His Excellency, President Goodluck Jonathan and Major-General Muhammadu Buhari on Thursday, March 26, 2015 ahead of the 2015 presidential elections.
"You may recall that on January 14, 2015, both of us, along with nine other party leaders signed what has now come to be known as the Abuja Accord. The substance of that accord was our commitment to free, fair and credible elections in our dear country.
"In the accord, we agreed to, among other things, run an issue-based campaign and pledged that our electoral campaigns will not involve any religious incitement, ethnic or tribal profiling, both by ourselves and all agents acting in our names.
"Now that the campaigns have come to an end, we meet today to renew our pledge for peaceful elections. We, therefore, call on all fellow citizens of our dear country, and our party supporters, to refrain from violence or any acts that may in any way jeopardise our collective vision of a free, fair and credible election.
"In addition, we call on INEC and all security agencies to ensure strict adherence to their constitutional roles. We also pledge to respect the outcome of free, fair and credible elections.
"Today, we again renew our commitment to a united, democratic and prosperous Nigeria. We want  all Nigerians to stand together at this critical phase of our nation's history."
Both presidential candidates had on January 14, signed a peace accord witnessed by former United Nations Secretary-General, Kofi Annan, and former Secretary-General of the Commonwealth, Emeka Anyaoku.
Why accord was renewed — Abdulsalami
Speaking with journalists after the meeting, former Head of State, General Abdulsalami Abubakar said the renewal of the accord was to "reassure the world and make Nigerians understand that this country is more important than their own aspirations and that people should live and reflect these ideals.
He said: "This committee has been working round the clock to assist the parties and Nigerians to ensure that there is peace and harmony before, during and after the elections this time around.
"Mr. President was kind enough to see us yesterday (Wednesday). One, he is the President of the country and secondly, he is a contestant. And this morning, Gen. Buhari, despite his late arrival last night or early arrival this morning, was kind enough to meet with this committee.
"In essence, all the meetings were held to brief them on the current situation of the country and what we expect of them as stakeholders and as presidential candidates.
"I want to thank both the President and Gen. Buhari for finding time to meet with the committee. And I want to thank both party chairmen for the support received in trying to send this message of peace.
"I'm happy that both parties, the contestants are committed to free and fair elections, free of violence. And this morning a document to reiterate their commitment for this peaceful, free and violence-free elections was signed."
DSS warns against unauthorised release of results
The Department of State Services, DSS, has warned against release of elections results by unauthorised individuals and groups.
It said in a statement by its spokesperson, Mrs. Marilyn Ogar, that the Independent National Electoral Commission, INEC, was the only organisation authorised to announce election results and warned that any other person or group planning to do so should desist or face the consequences.
The DSS also asked persons without any business with the elections to stay away from the polling station, while urging the electorate to be security-conscious.
Security is guaranteed
The statement reads in full: "Information at the disposal of this Service has revealed that certain mischievous persons or groups have concluded plans to announce election results before the Independent National Electoral Commission (INEC) concludes its collation exercise.
"This statement, therefore, is to advise all citizens of Nigeria, election observers and the international community to disregard election results which are not announced by INEC as INEC remains the only authentic body authorised to do so.
"Once more, we reiterate our call on all eligible voters to come out and exercise their franchise as security is guaranteed. We also want to seize this opportunity to remind voters to remain vigilant and to warn all those who have no business with the electoral process to keep away from Polling Units and Collation Centres."
15 electoral offences to avoid, by Police
The Police, yesterday, came out with a list of 15 offences that may be committed which may lead to arrest.
According to a statement from Force Headquarters, the electoral offences are "casting of vote twice or more; announcing false election result; stopping any other person from voting and revealing information on a ballot paper of another person."
Others are "being in possession of another person's voter card; disorderly behaviour at polling units; canvassing for votes at polling unit; shouting slogan of a political party at polling unit; being armed with guns, sticks, stones or any other dangerous weapons at polling units and loitering or walking about in a polling unit."
Also, tagged electoral offences include "using siren at a polling unit; snatching or destroying ballot boxes or card readers; holding public meeting during election hours on election day; wearing or carrying badge or poster of a political party and inflicts or threatens to inflict injury on any person or persons at a polling unit."
The Police Force reiterated its advice to members of the public to avoid trouble, as any offender will be arrested and prosecuted.
FG reopens  sea borders
Meanwhile, barely 24 hours after shutting all borders for the 2015 elections, the Federal Government yesterday reversed the order by reopening sea borders.
The reversal was announced by the Interior Minister, Abba Moro, at the commissioning of Koton-Karfe Prison.
The minister said the Federal Government had received advice that closing the sea borders would adversely affect the nation's economy.
He, however, assured that officers and men of the Nigeria Immigration Service had been
directed to effectively monitor movements in and out of the country's sea borders before, during and after the elections.
Inec set for polls
Already, INEC, says it is ready to conduct an election that will meet international best practices.
The commission has concluded the training of the ad-hoc staff that will operate in the 120,000 polling units across the country. Over 700,000 personnel will be involved in the exercise at different levels.
Certainly, one issue that really generated a lot of interest was the introduction of the card reader machine which the commission insists it will use for the accreditation of voters.
Interestingly, while some political parties kicked against the device which the INEC chairman, Prof. Attahiru Jega, said will check the spate of rigging, others gave their full backing to the new innovation.
And talking about the voter cards, that is one other area where INEC seems not to have gotten it right. Across the states, many registered voters found it very difficult to collect their cards from the designated points.
But after a series of the extension of the period of distribution, over 81 per cent of the about 68 million registered voters have collected their PVCs, a situation that has added to the credibility of the exercise.
INEC briefs 82 groups
Foreign and local observers are all at different parts of the country for the observation of the polls. Last week, INEC had a briefing of the 82 different groups in Abuja.
At the meeting, Jega told them to restrict themselves to the role of observation and not to act as monitors, insisting that only the real stakeholders including the commission can monitor.
The security agencies have also been fully mobilised through the inter agency on security, comprising the police and other military and para-military agencies.
IGP deploys DIGs, AIGs to zones
Meantime, the Inspector General of Police, Suleiman Abba, has redeployed states Commissioners of Police while Deputy Inspectors General of Police from Force Headquarters are to be deployed to man geo-political zones of the country
The IG said the redeployments were aimed at further repositioning the Police for a successful conduct of the 2015 general elections.
A statement signed by the Force Public Relations Officer, CP Emmanuel Ojukwu, named the redeployed senior officers as DIG Dan Azumi Doma, who is second in command as Coordinator South-East Zone; DIG Mamman Tsafe, who is DIG in charge Logistics and Supply, Coordinator South-South Zone.
DIG Hashimu Argungu, who is in charge of Training is Coordinator, South West Zone; DIG Christopher Katso, who is in charge Communications and ICT is Coordinator North West Zone while DIG Hilary Opara, who is in charge of Administration is Coordinator North-East Zone.
Others are DIG Adeola Adeniji, Coordinator North Central Zone; AIG Kalafite Adeyemi is the Asst. Coordinator South West Zone. AIG Bala Magaji Nasarawa is Assistant Coordinator North Central Zone.
Also, AIG Baba Adisa Bolanta is Assistant Coordinator North West Zone; AIG Usman Gwary is now in charge Federal Operations (FEDOPS) Abuja while AIG Mark Idakwo is the new AIG in charge Zone 9 Umuahia.
For the Commissioners of Police, CP Hosea Karma moves from Anambra State to Rivers State Command; CP Adamu Mohammed moves from Enugu State to Anambra State Command; CP Dan Bature from Rivers State to Enugu State Command; CP Usman Abdullahi is CP Katsina State Command; CP Jimoh Ozi-Obeh is CP Benue State Command while CP Hyacinth Dagala is CP Operations (DOPs) at FHQ Abuja;
The IGP directed all officers to exhibit the highest level of personal and professional conduct in the discharge of their duties.