BY KINGSLEY OMONOBI-ABUJA
The National Youth Service Corps (NYSC) has the mandate to promote national unity and development by mobilizing and deploying fresh graduates to various parts of the country for the compulsory one year national service. However, there is a new dawn of things happening  in the NYSC with  the  innovation that is catching the eye.  At the centre of this rebirth is Brigadier-General Johnson Bamidele Olawumi, the Director-General (DG) of the scheme.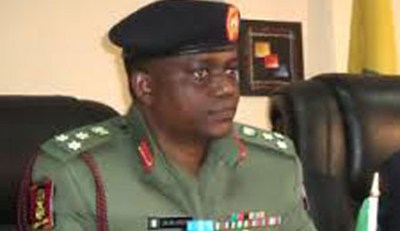 Following his appointment as the 16th DG, Olawumi developed a road-map for his tour of duty, a clear indication that he wasn't in NYSC just to mark time. His approach to administration was anchored on a  four-point agenda aimed at aligning the scheme to current challenges and repositioning it as a force for good. These were anchored on the drivers: improving the service content of the scheme; enhancing the welfare and safety of corps members and staff; expanding partnerships for greater impact, funding and support; and increasing the visibility and relevance of the scheme.
It is against this backdrop that Sunday Vanguard had a chat with  Olawunmi on pertinent issues including the 2015 elections. The officer 'who left Army Headquarters as Principal Staff Officer to the Chief of  the Army Staff, holds a B.Sc. in mathematics from the Nigerian Defence Academy, a B.Eng. mechanical engineering from University of Ilorin, and an MA Defence Studies from Kings College, University of London.
How many corps members are scheduled to participate in the general elections?
We have an  MOU with INEC concerning the participation of youth corps members in the general elections. For the 2015 elections, INEC brought a new dimension by asking  corps members who wished to participate in the elections   to register online and, as at the close of registration, precisely, January this year, they had  about 168,000 that registered.
Our plan initially was that Batch 'A' of 2014 should  be used for the  elections; unfortunately, there was six weeks poll shift and that Batch 'A' passed out on 19th February. We now realized that we could no longer use  them having passed out in order not to violate the NYSC  Act.
Now, we wrote to the INEC to explain to them that, about 34,000 of those who had registered  were passing out, and we could  hold on to them.  Now that they have passed out,  if they have to participate in the March 28th and April 11th elections, it will not be right for them to participate as corps members. 'However, because they have been trained and you need to get some other people as ad-hoc staff, if you wish, you could still employ them as ad-hoc staff where ever they are since they have registered and you have their data; but our conclusion is that wherever they are going to participate, they are not going to wear uniform, they are not going to be under NYSC.'
Therefore, if we  remove 34,000 from 168,000, it will be 134,000 that are going to participate.
How many youth corps member have passed through the NYSC since inception?
As at the last passing out we have about 2.8 million corps members that have pass through the Scheme. You will be surprised that after over 40 years when the scheme started in 1973 we have just 20,000 passing through the NYSC scheme. It was until recently when we had more universities as a result of government policy and private university growth, that we started having the population rising as much 200,000, 250,000 thousand so on. As at today, we are just around 2.8million that have gone through the scheme.
Why did you embark on online registration for youth corps members that generated controversy?
I want to believe that we have gone beyond this but I will just give this explanation. The online registration came about because of what we feel prospective corps member were going through the suffering they pass through when they want to go and collect their call up letters. We felt there is a way we can take advantage of information technology IT to mitigate this kind of problem, which was why we went into this so called online registration.
We looked at cost of providing the infrastructure in the Headquarters here in Abuja and in all 37 state secretariats, in all 37 orientation camps network, hardware infrastructure and all. We looked at it and the amount was so huge. The amount was over N800million. Now, if we approach government and we say, we need N800million, the first question government will ask is what value do you want to add, or you don't want corps members to travel to go and collect their call up letters. Some people will say are they complaining that they cannot go and collect their call-up letters.
Let us even put that aside. If you ask me, there are other places that we want government to give us money not for us to go and establish this online platform I will give you two examples. For instance, the corps members today the allowance is N19, 800 and it will better for me to go and make case for increment than for me to go on an online registration. That is one.
During orientation camping exercise for the 21 days, a corps member will be fed on an approved sum of N500 per day. That is what government provides and one thing is that Nigeria budget is not something that is hidden, it is there online you can go and check it; approved feeding allowance in the camps per corps member is N500. So is it not better for me to go and make a case for an increment than to go and start looking for money for online registration but then we are still mindful of the fact that, yes, this is national service.
That is why we made the online thing optional, it is voluntary. For example if two people school in Kaduna, one is living in Calabar, the other one is from Kaduna; the one who lives in Calabar can do online registration and the one from Kaduna can just walk to his or her school to collect the call up letter which its optional. We just do this to create an opportunity that if you like you can pay certain amount and then you don't need to travel to go and collect it.
What we are just done is to give an option, which is why we say that process will continue to be optional. If you like you can travel to anywhere to go and collect your call up letter that is your problem, if you like you can use online platform.
Using the example of batch C of year 2014, about 37 percent of those who register, paid and registered online. Since we say it is optional, corps member are not kids, they are adult they can take decision on their own even if its two percent that says they will register online fine and good. Let us even look at issue of foreign based graduates; before the online registration, they have to come down to Nigeria and do certificate verification first and they go back again. When we start given call up letter they now come back to collect the call up letters and wait for four to five days. But with what we have done now, a foreign graduate anywhere in the world can register online, upload his or certificate and print his call up letter. By the time he comes to Nigeria he or she will just go straight to the camp.  Is that not commendable enough?
We would have loved to give it to an independent body to do it for us but we did it ourselves because we want the data base to be domicile with us. Last year we had a two day stakeholder meeting with parties involved like civil society groups, COS, NANS and we have agreed to reduce the amount from 4000 to 3000. They themselves commended the effort and because of the pressure from NANS, to reduce the fees we agreed to reduce it from 4,000 to 3,000 naira. The reduction is not because we want to reduce profit, no. And as from the next batch, I want to say it clearly; the amount is going to be 3000 and is going to be optional anybody who wants can pay and if you don't want the status so remain. You can go back to your school and pick up your call up letter.
In past elections  like the 2011 version, some corps members lost their lives.  Do you have provision to honour or reward them because, for the 2015 elections, many  parents are sceptical about the security of their wards?
First of all, we have embarked on the Hope Alive Initiative whereby, for any corps member who loses his life or who has  permanent disability, there is insurance cover. Government will pay some money and there is an insurance company that we subscribe  with that pays. However, for those who suffer disability, the one-off money government pays  is  one million naira. We don't just want to leave them with that one alone. We want to continue to monitor such corps members. For example, there were nine of them in 2014 who,  through one accident or the other, suffered permanent disability. We have honoured them. We said  insurance must have paid them but we want  to monitor them because they got this deformity in the course of national service. So, we approached  a particular bank  to provide training for them and also give them  start off capital.
The essence is that any corps members in the course of service who becomes disabled should not be neglected, because that corps member has offered service to this great country and this great country must not abandon him. We also believe it will give hope to those who are coming to serve that if such a thing happens to them, this great country will never forget their service. Lastly, on the question of parents being afraid to allow their children to participate in the elections, I want to assure parents that the NYSC management  has put together water tight strategies that will guarantee the safety and security of our corps members taking part in the elections. Not only those who are taking part, but also those who are doing their primary assignment, there are water tight strategies to guarantee their safety and security.